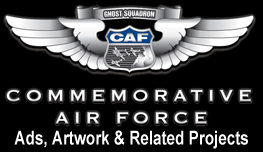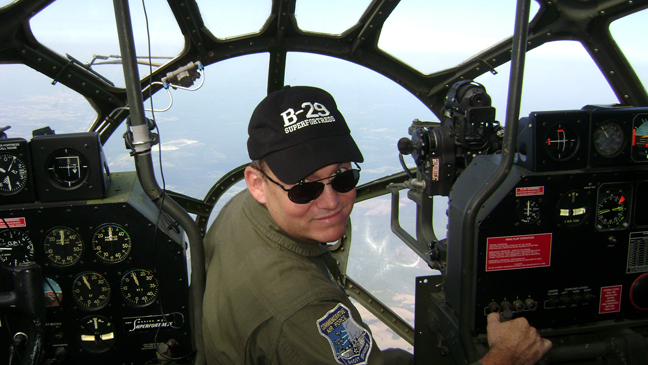 Click on picture of Kon the Bombardier aboard "FIFI" to see video "Flying in the Nose."
---

See the most recent issue of The Flyer Current Flyer
See The Flyer Newsletter Covers from 2012-2022 Flyer Covers
and four Diamond Lil Century Club Member Newsletter Covers 2015-2016
---
The CAF (Ceiling Air Force)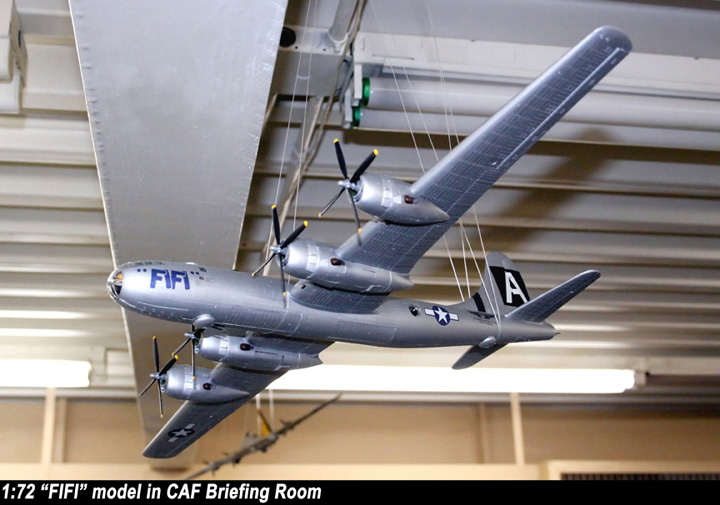 See other models in CAF Briefing Room by clicking HERE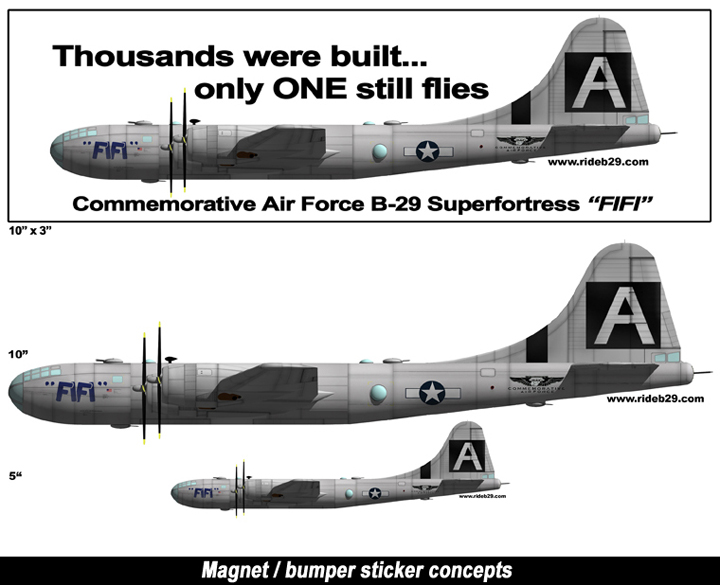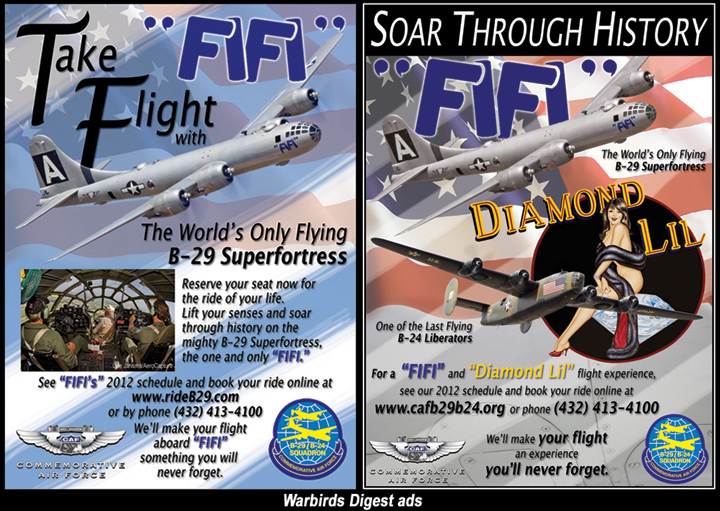 Used Photoshop to delete rivets and isolate Gary Velasco's amazing nose art for Squadron ads and other fun stuff :)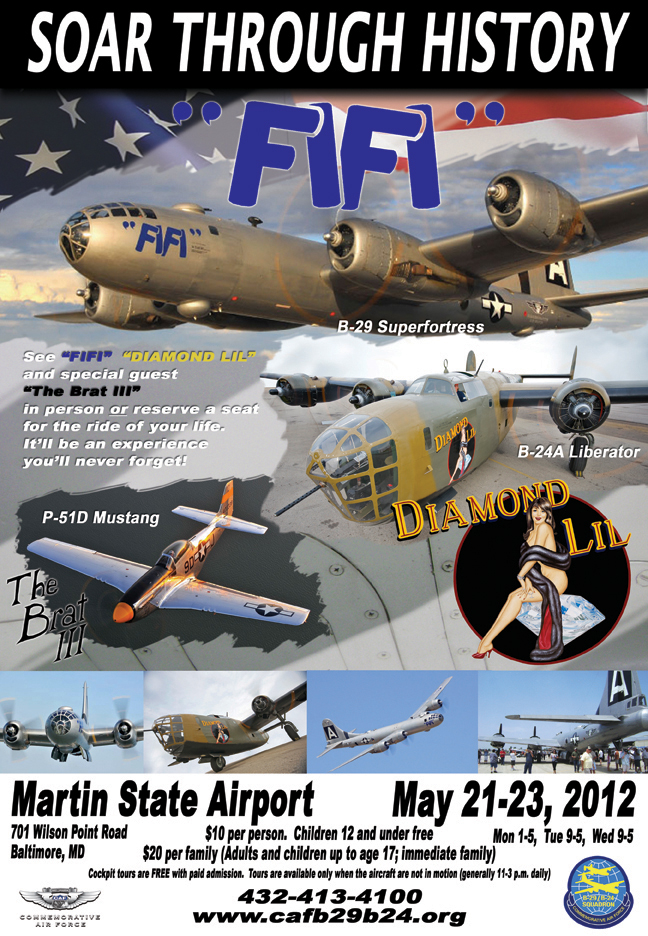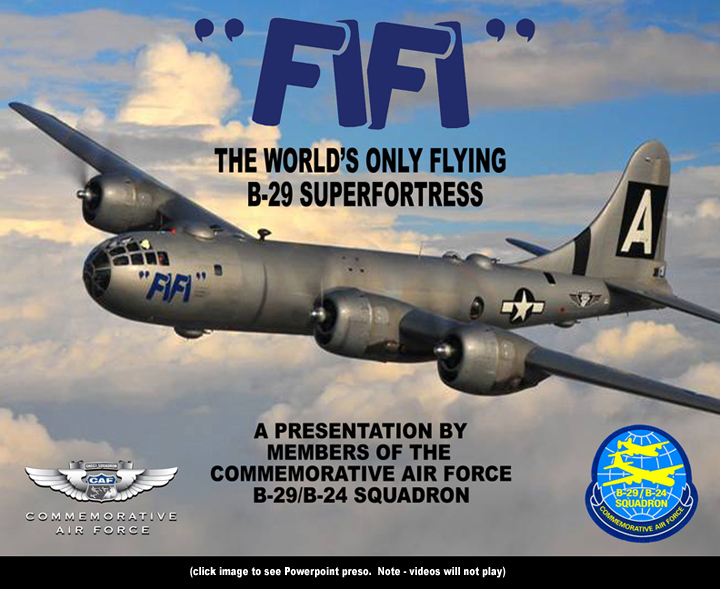 Delivered October, 2011 for Richland College Emeritus Program.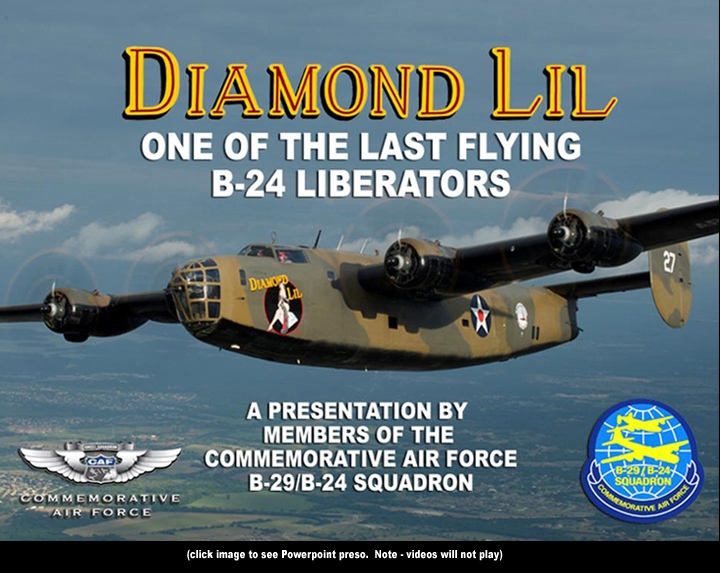 Delivered February, 2014 for Richland College Emeritus Program.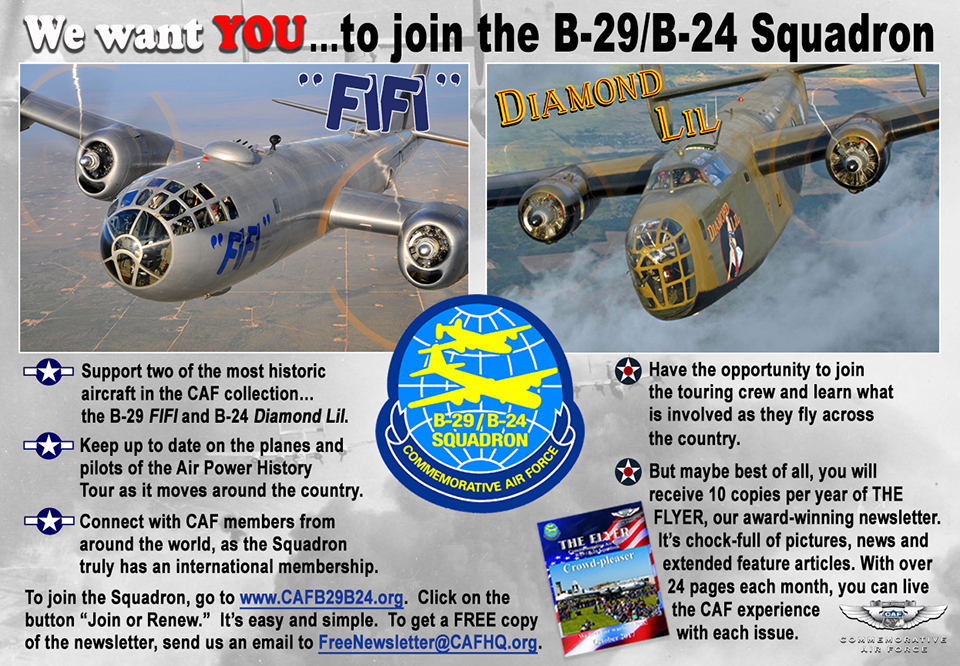 Squadron ad for The Dispatch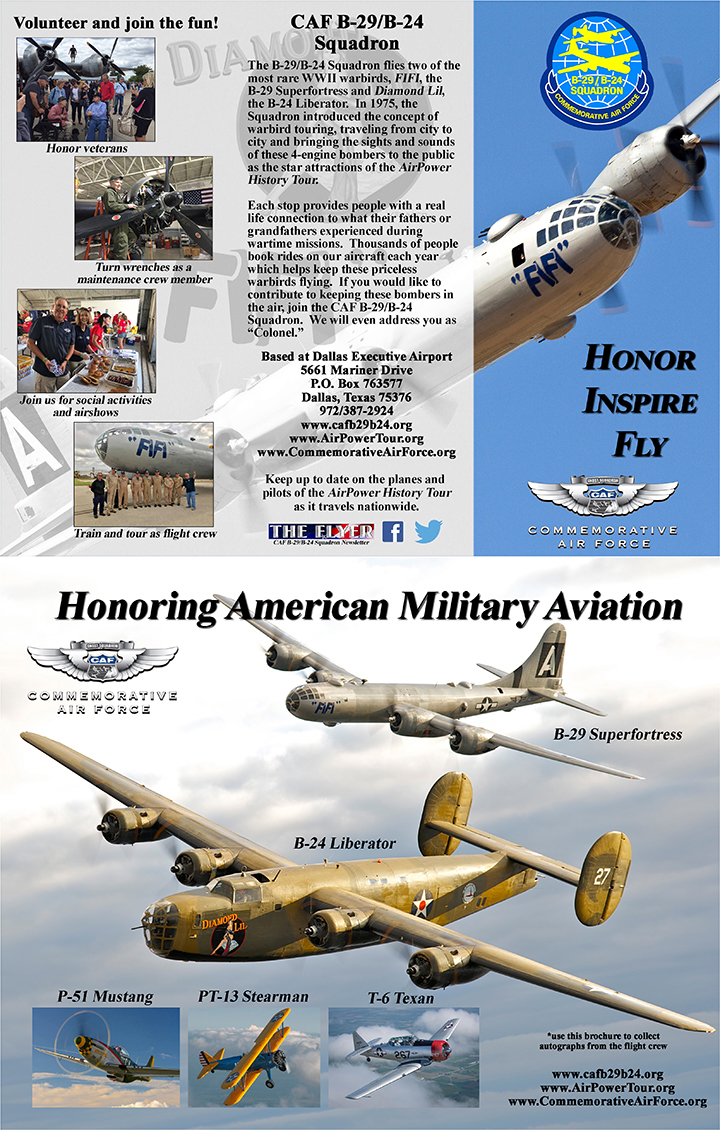 Squadron Tri-fold brochure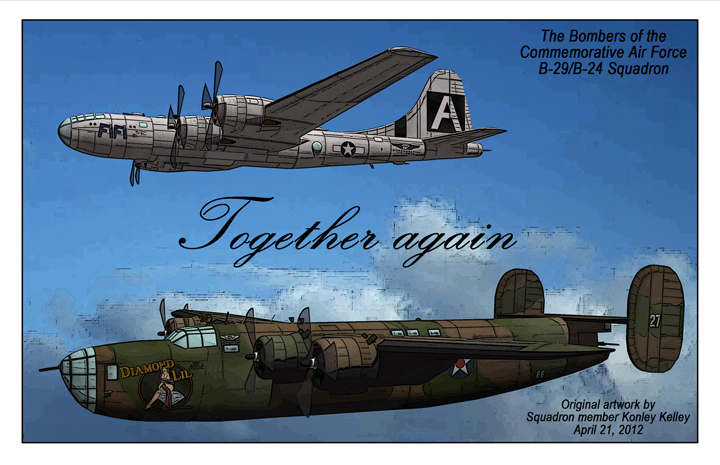 Artwork distributed at the unveiling of "Diamond Lil's new nose art, April 2012.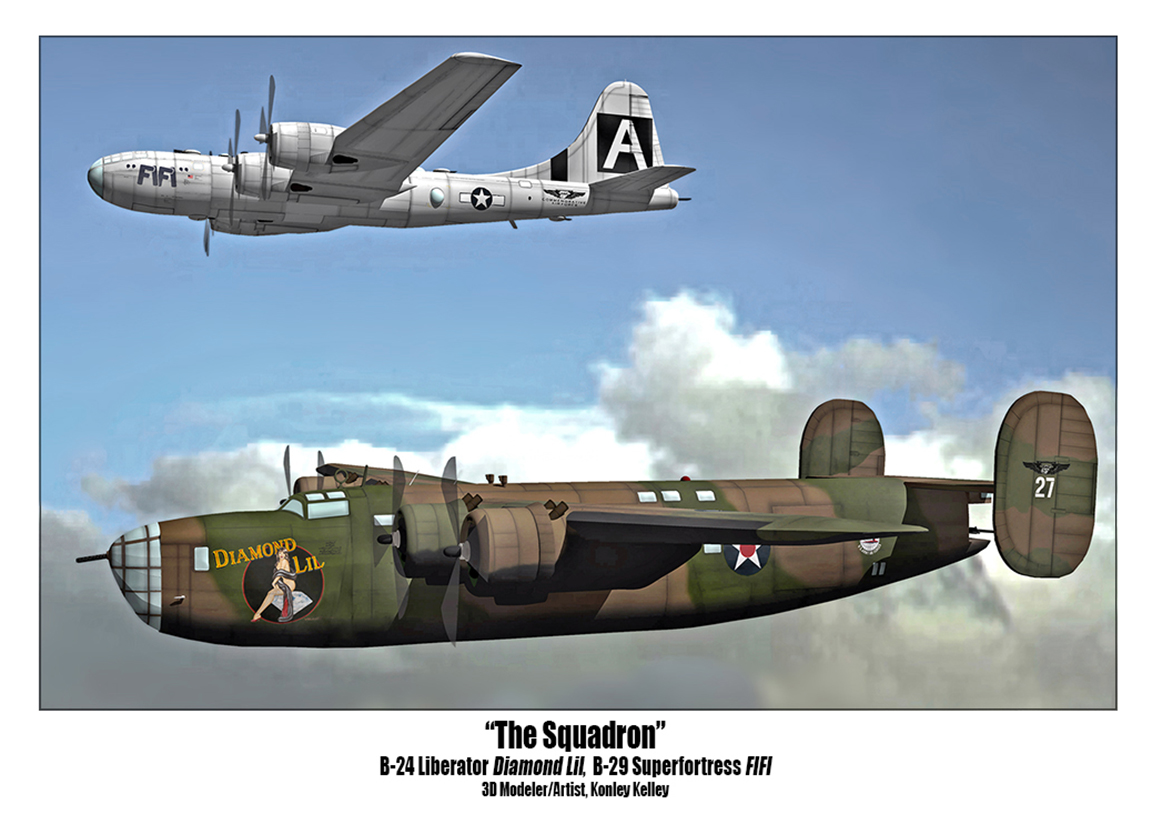 "FIFI" and "Lil" in 3D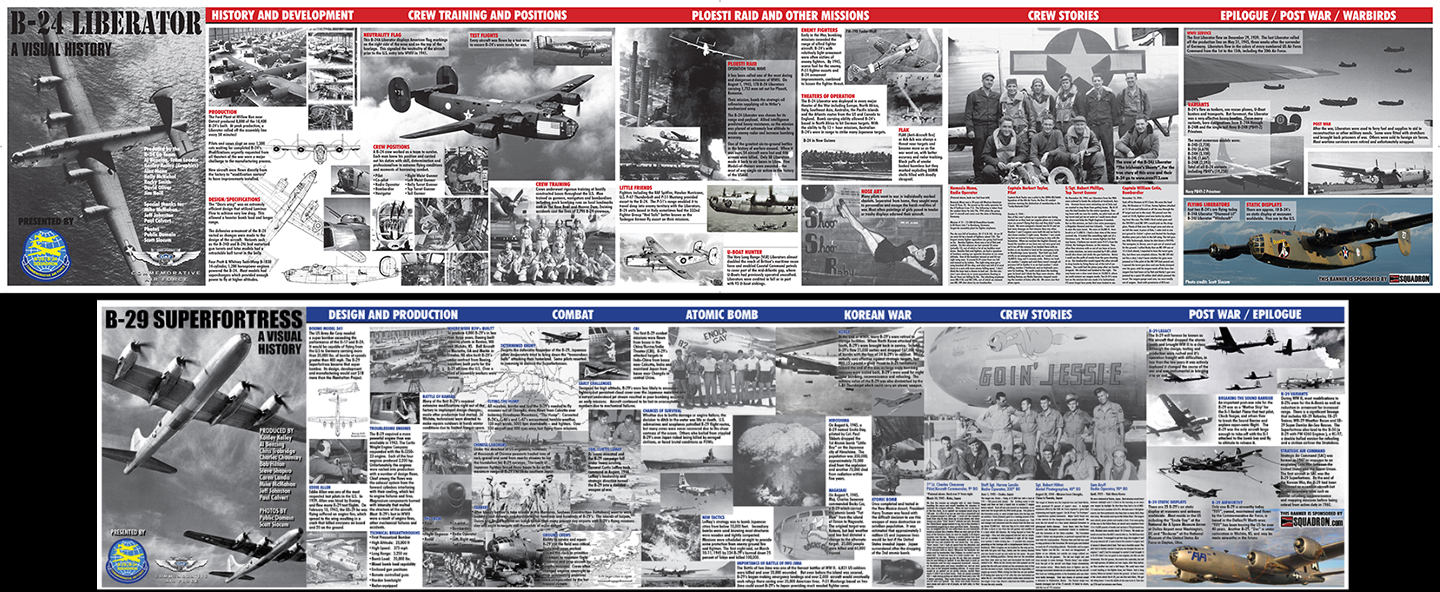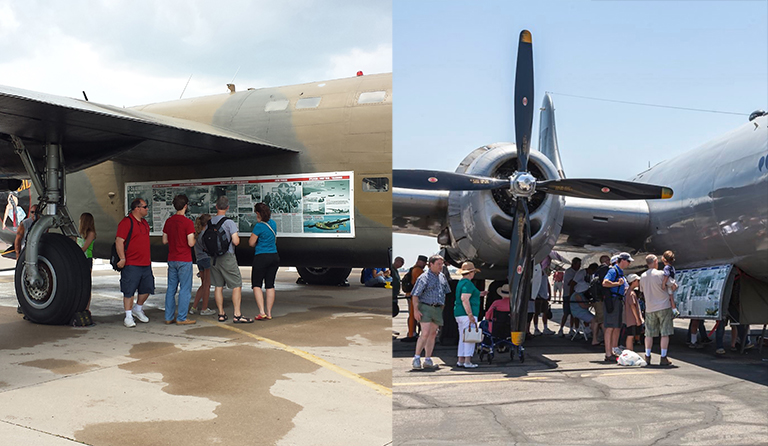 The B-24 and B-29 Banner were a collaborative project between our CAF team and Squadron/Signal.
The B-24 Banner is 15' x 3' and is attached to the fuselage of "Diamond Lil" when she is on static display.
The B-29 Banner is 13' x 3' and is attached to "FIFI's" forward bomb bay when she is on static display.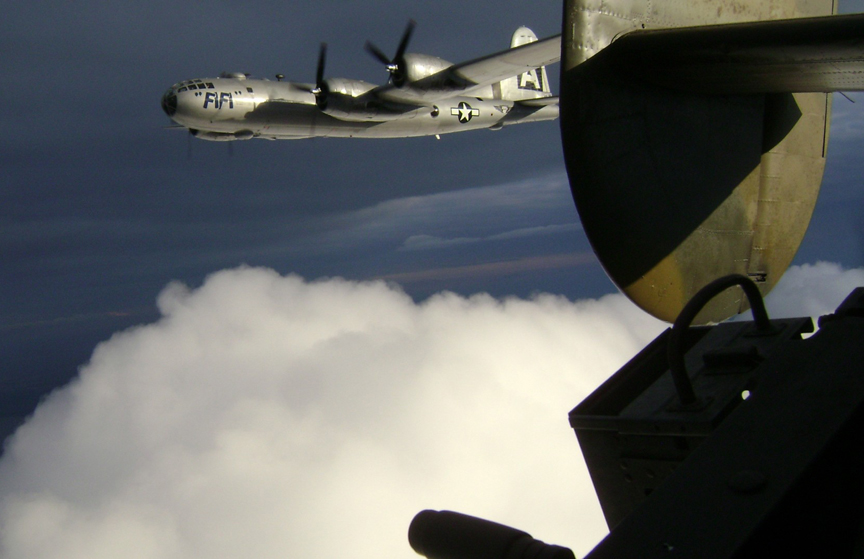 My favorite picture taken from "Diamond Lil's" right waist gun position of "FIFI" (Photo by Kon Kelley. May 12, 2012)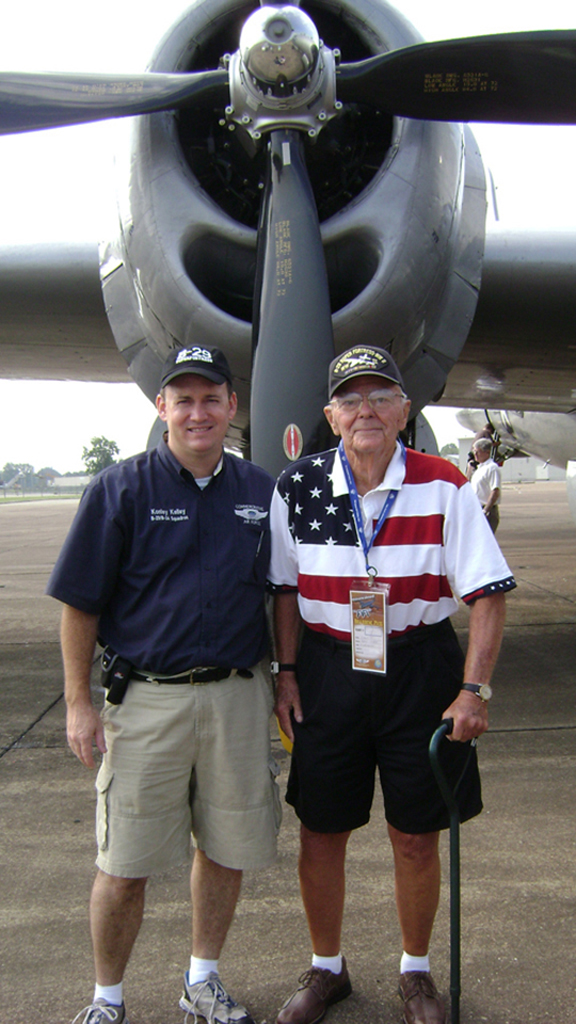 On tour in Memphis (2011). Pictured with James Clark, B-29 Bombardier.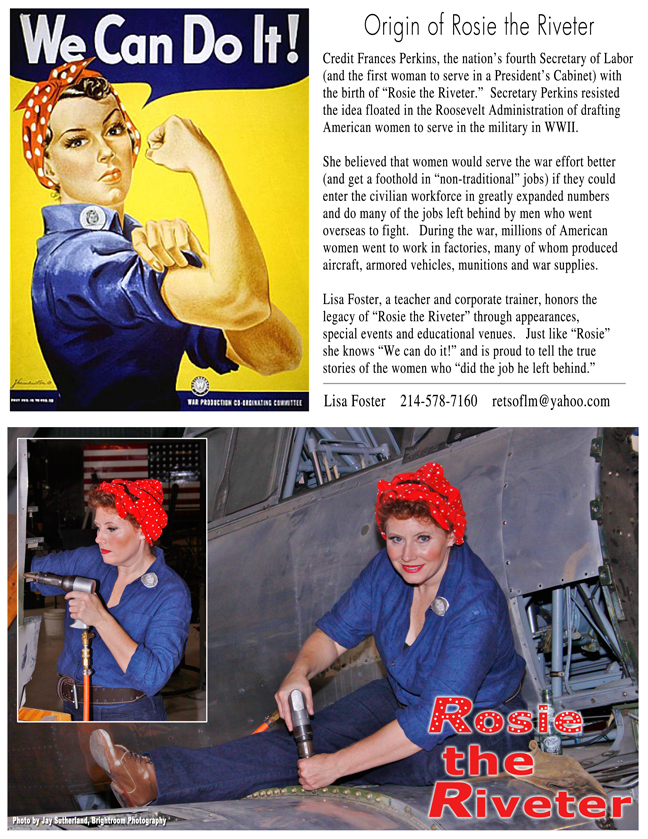 "Rosie the Riveter " postcard.
In 2012, I dared my friend, Lisa Foster, to go to an air show dressed as"Rosie the Riveter."
Now Lisa does this all over the place and she is the best Rosie reenactor EVER!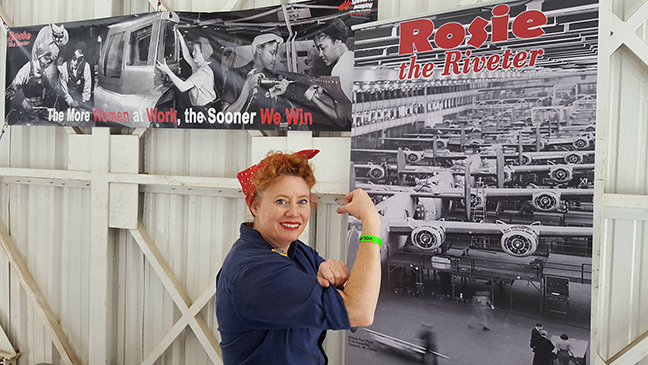 Lisa "Rosie" Foster with display posters.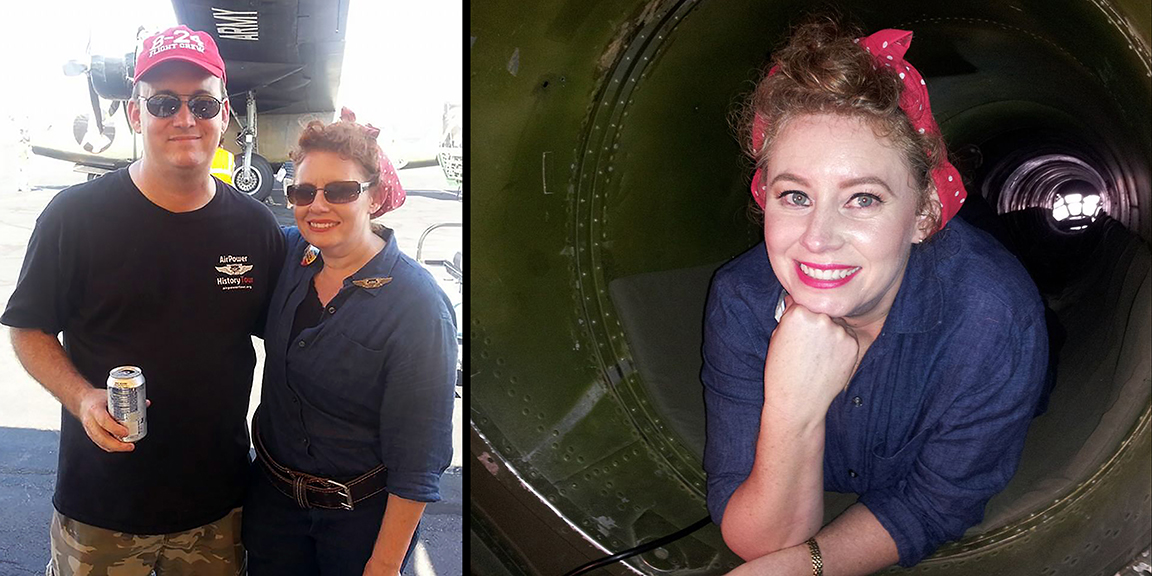 Hanging out with Rosie. She is cute :)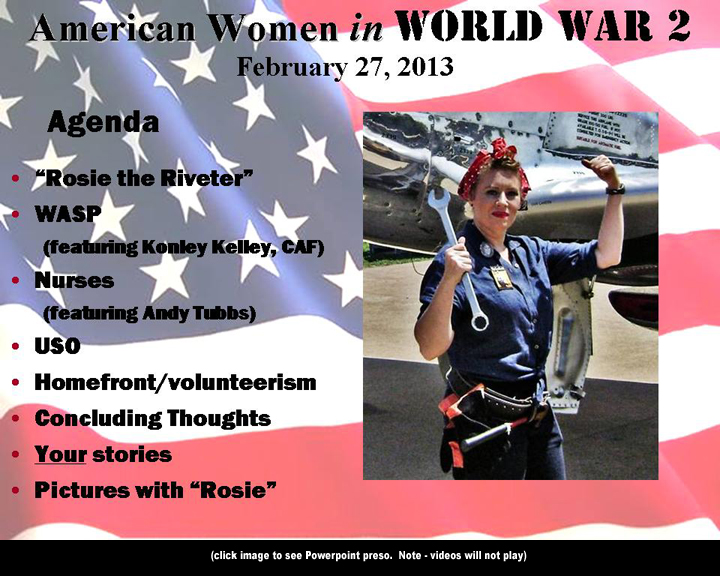 Delivered February, 2013 for Richland College Emeritus Program. Click image to see preso.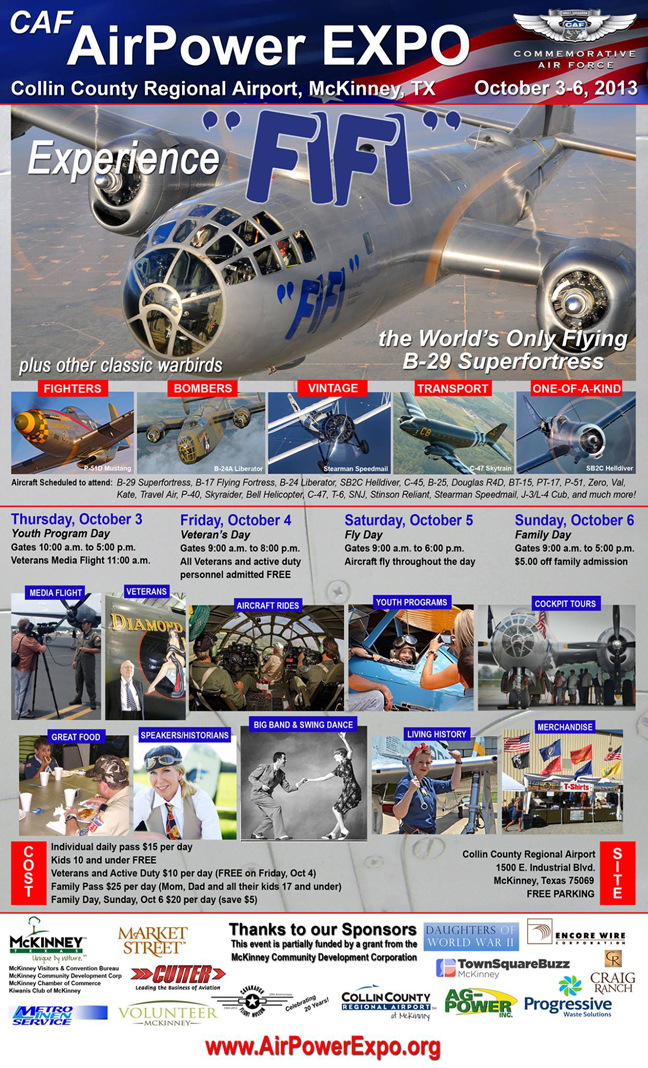 Airshow poster (2013)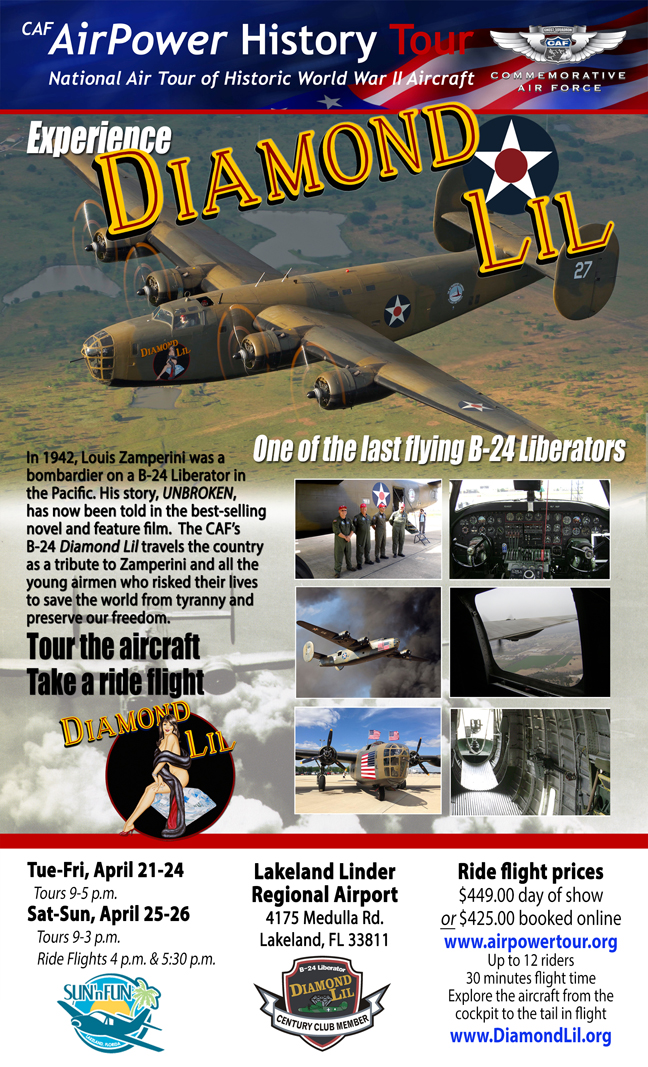 APHT template for "Diamond Lil" tour stop poster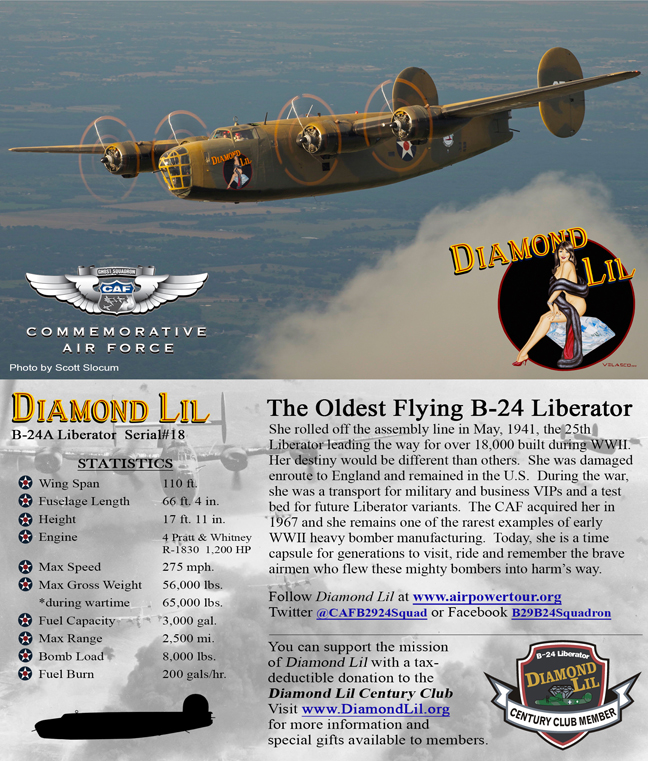 "Diamond Lil" postcard.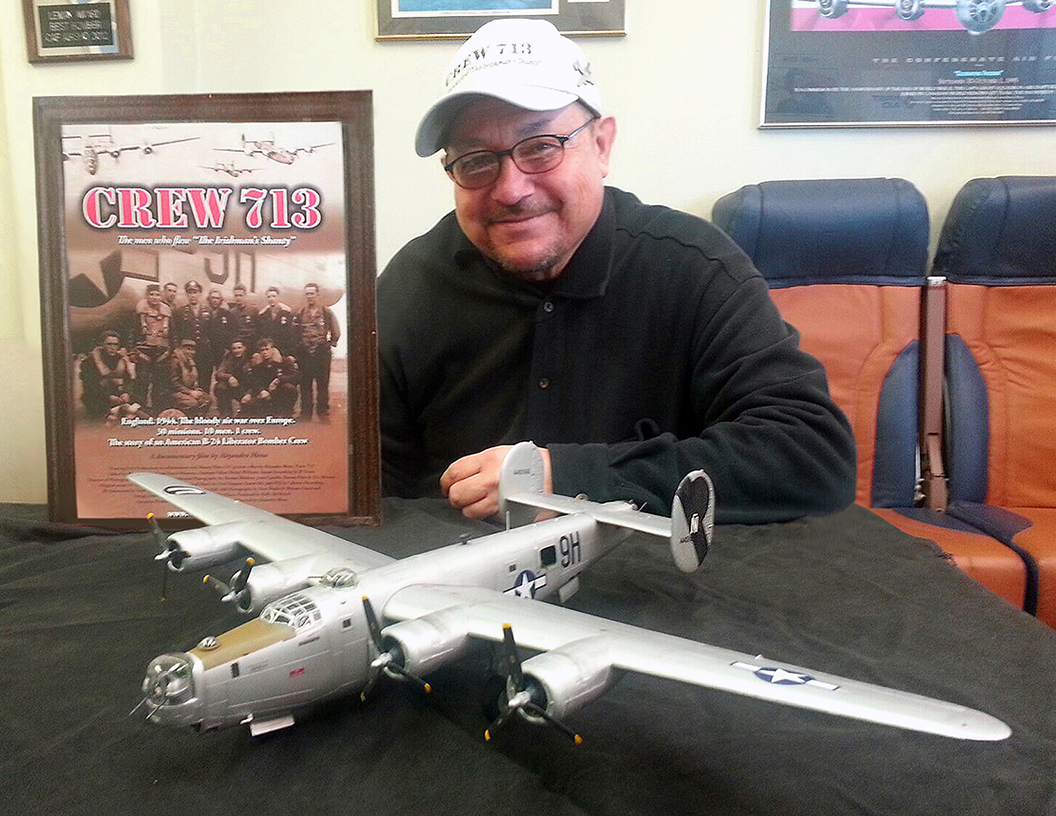 Monogram 1:48 B-24J Liberator with custom decals for "The Irishman's Shanty"
Pictured is Alex Mena, Producer/Director of the documentary CREW 713.
Alex's father, Nemesio, was a Radio Operator on "The Irishman's Shanty" in WWII.
See the CREW 713 documentary website CREW 713 website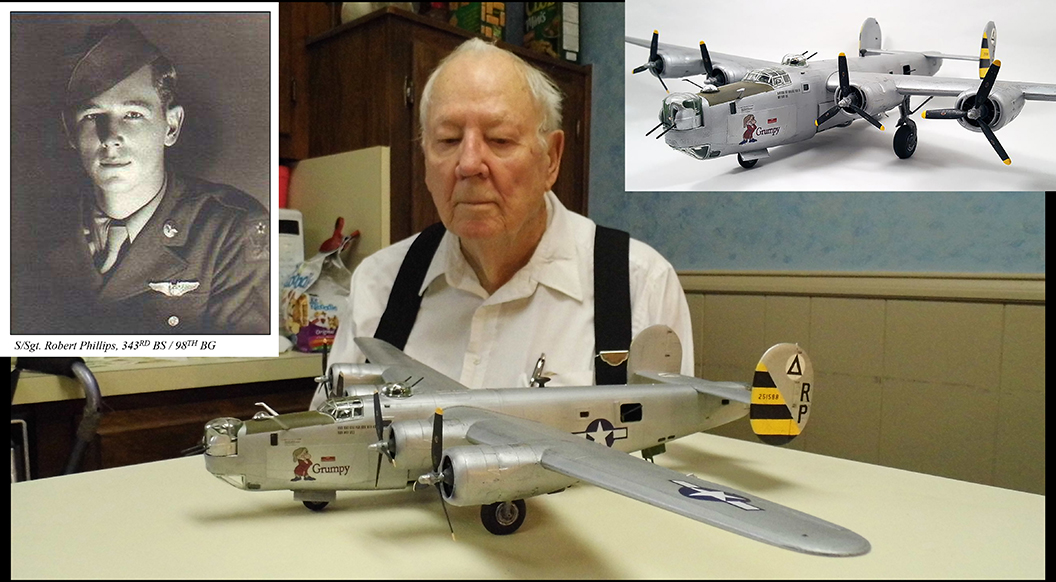 Monogram 1:48 B-24J Liberator "Grumpy" with custom decals for my friend and Squadron member, S/Sgt Robert Phillips.
Robert was a B-24 gunner for 38 missions in WWII and later had a long career with the Dallas Fire Department.

Playing with the "Support the Flyover"artwork. I erased the B-17s and added "Lil," "FIFI" and "Red Nose." Much better.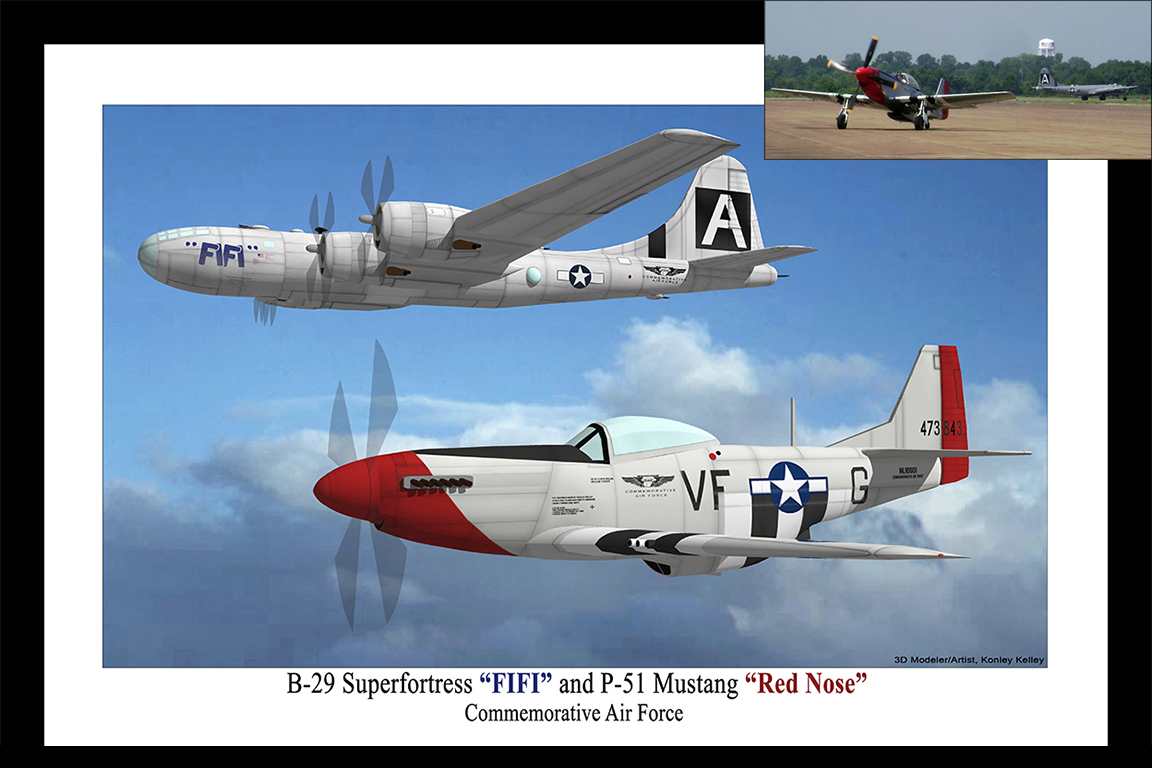 "FIFI" and the first CAF aircraft in the fleet, "Red Nose," at a tour stop in Memphis, TN and in 3D.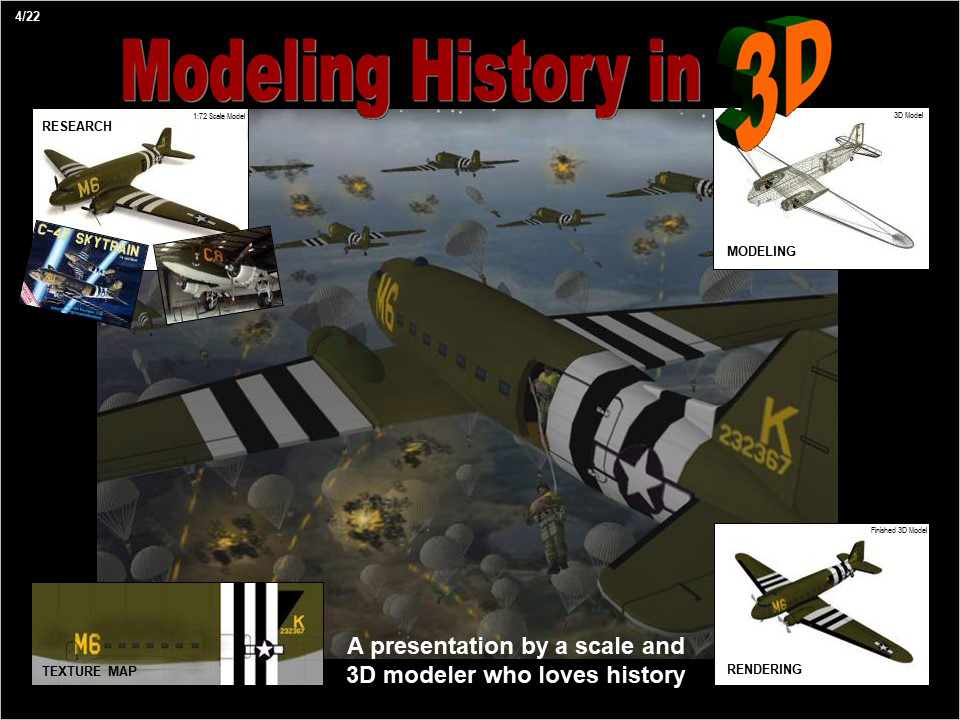 Click on the 3D C-47 to see "Modeling History in 3D" webinar on YouTube (1 hr 6 min)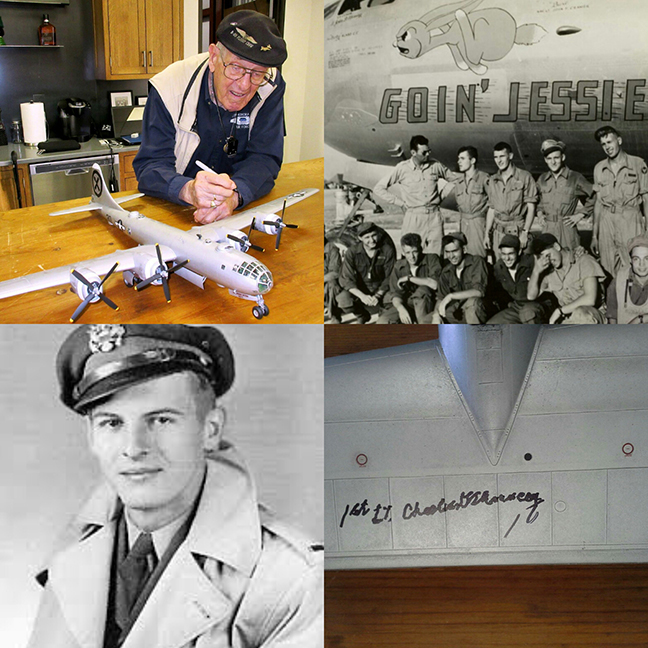 WWII veteran and B-29 Pilot/AC, Charles Chauncey, signs a model of his B-29 "Goin'Jessie"
See B-29 "Goin' Jessie" 3D model Goin Jessie
See Monogram 1:48 B-29 "Goin' Jessie" scale model Goin Jessie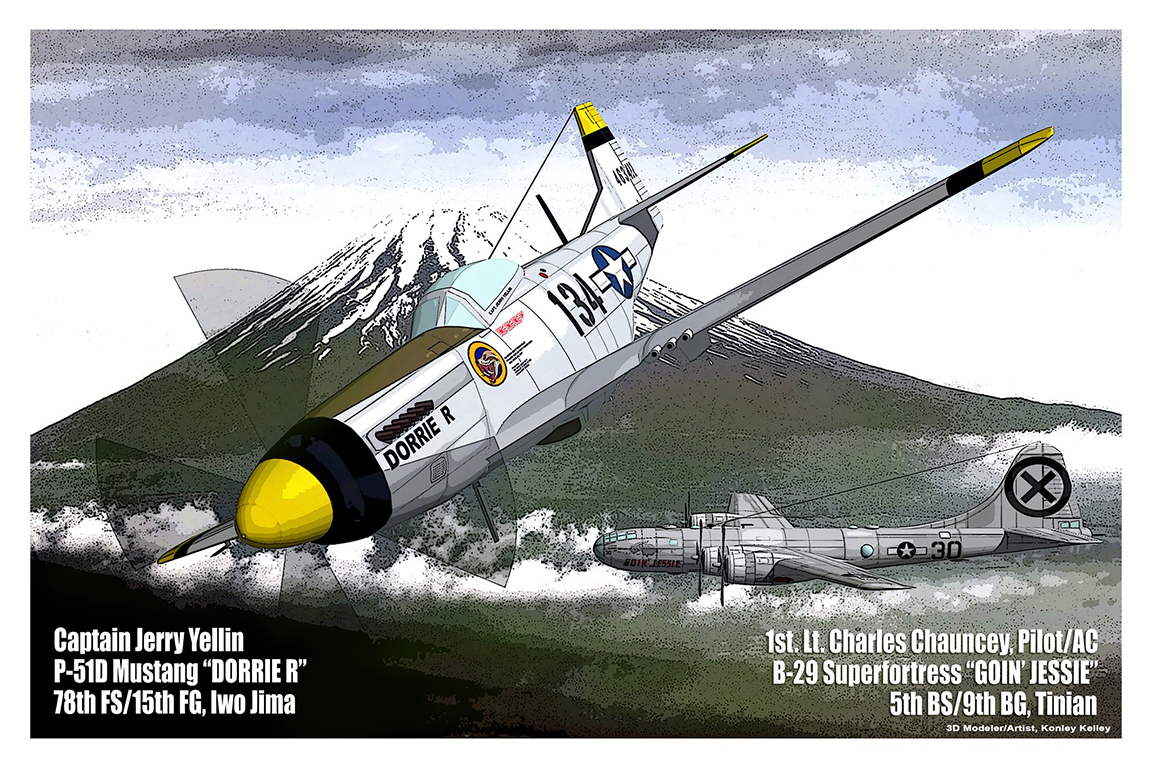 Combined 3D models in a scene featuring aircraft of my two friends, 1st. Lt. Charles Chauncey and Captain Jerry Yellin.
It was an honoring knowing you gentlemen.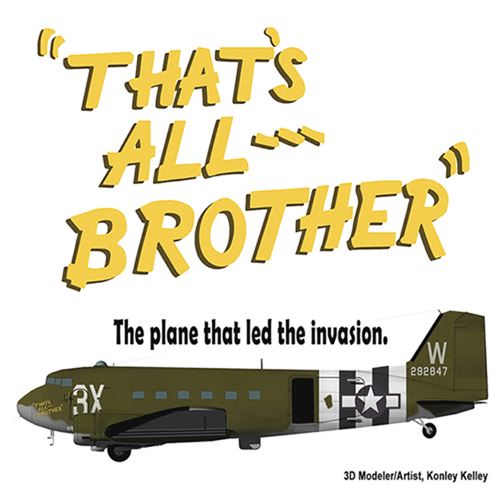 No problem replacing the texture map on my 3D C-47 with"That's All Brother."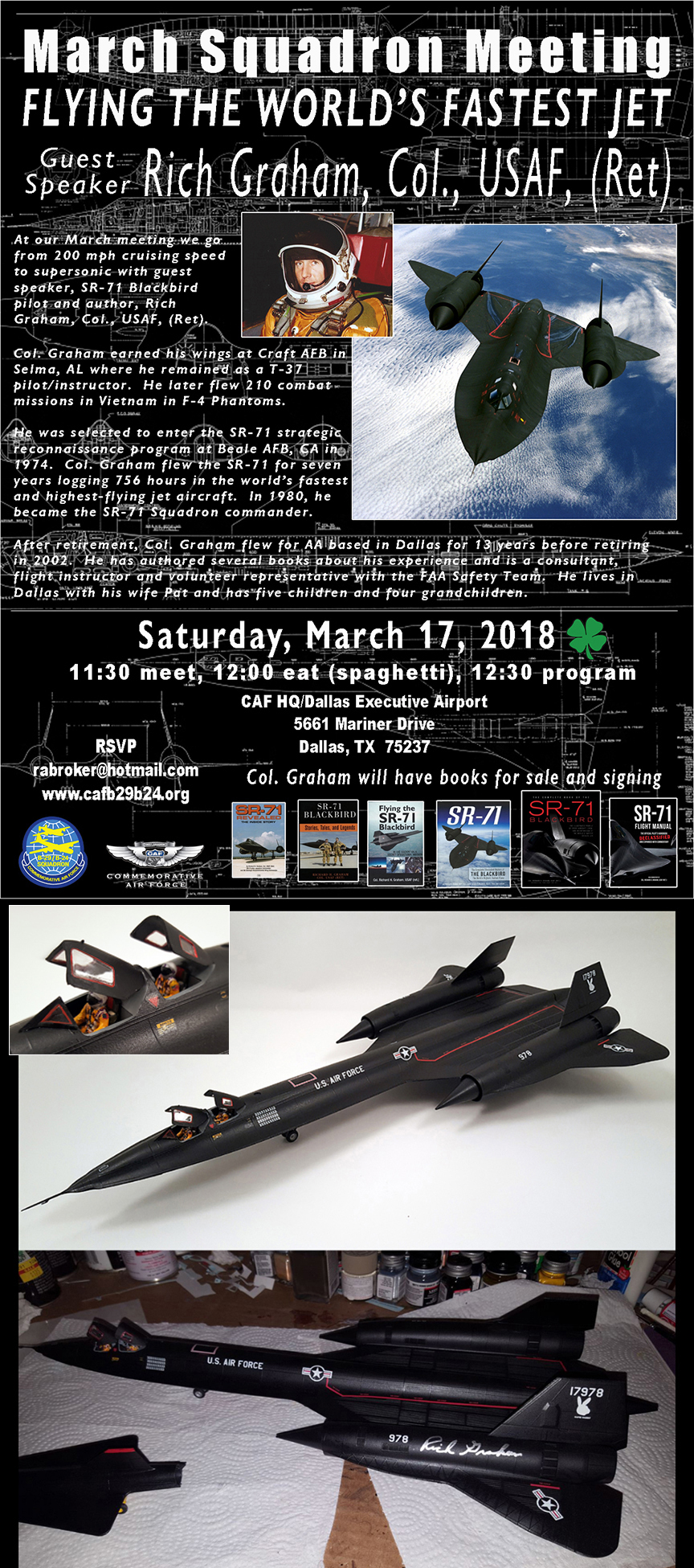 Designed poster for a special supersonic Squadron meeting.
Made 1:72 scale model of SR-71 for Blackbird pilot, Rich Graham to autograph.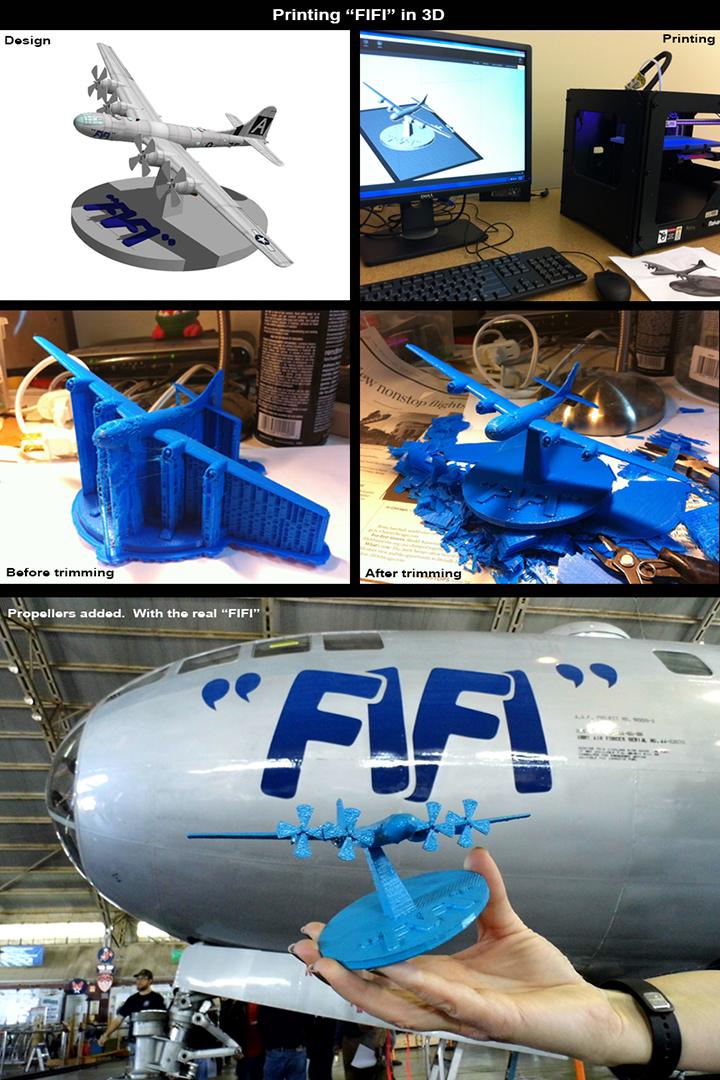 Printing "FIFI" in 3D. It took 6 hours and 15 minutes to print in 2015.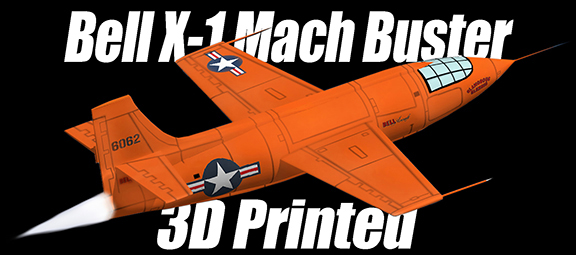 Click Bell X-1 image above to see 3D-printed model.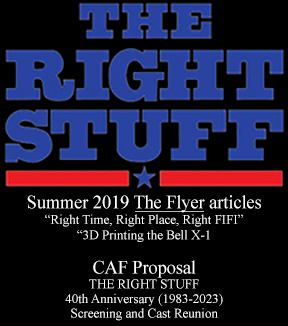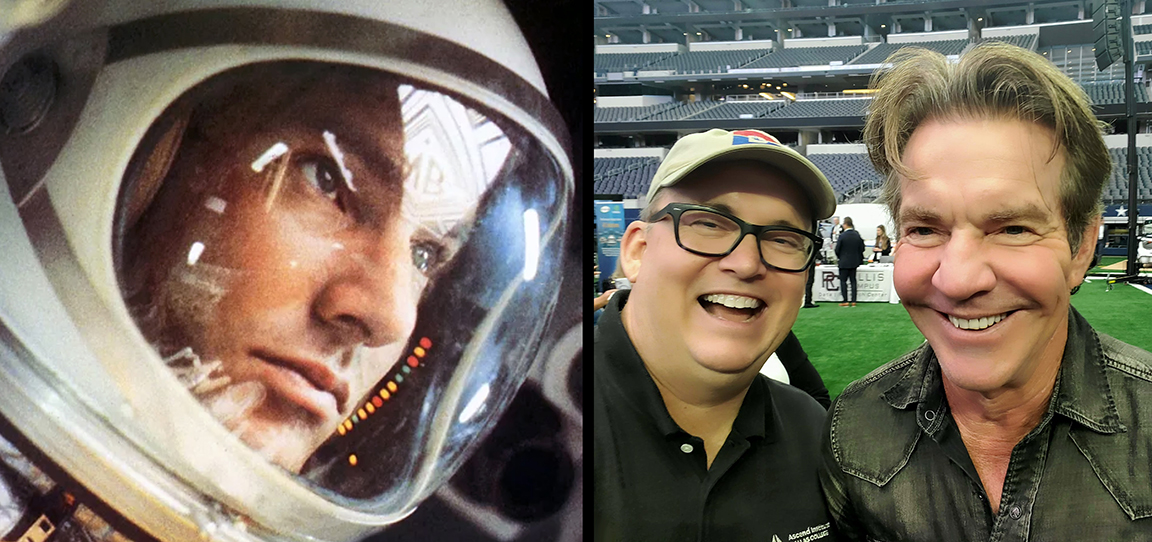 Me with actor Dennis Quaid at the YTexas Summit in AT&T Stadium (2023).
Quaid portrayed Mercury 7 astronaut Gordon Cooper in THE RIGHT STUFF (1983).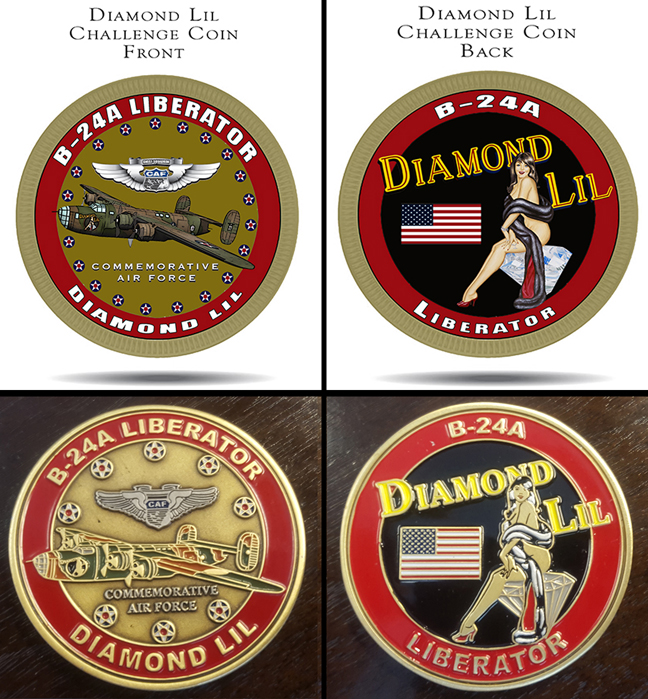 "Diamond Lil" Challenge Coin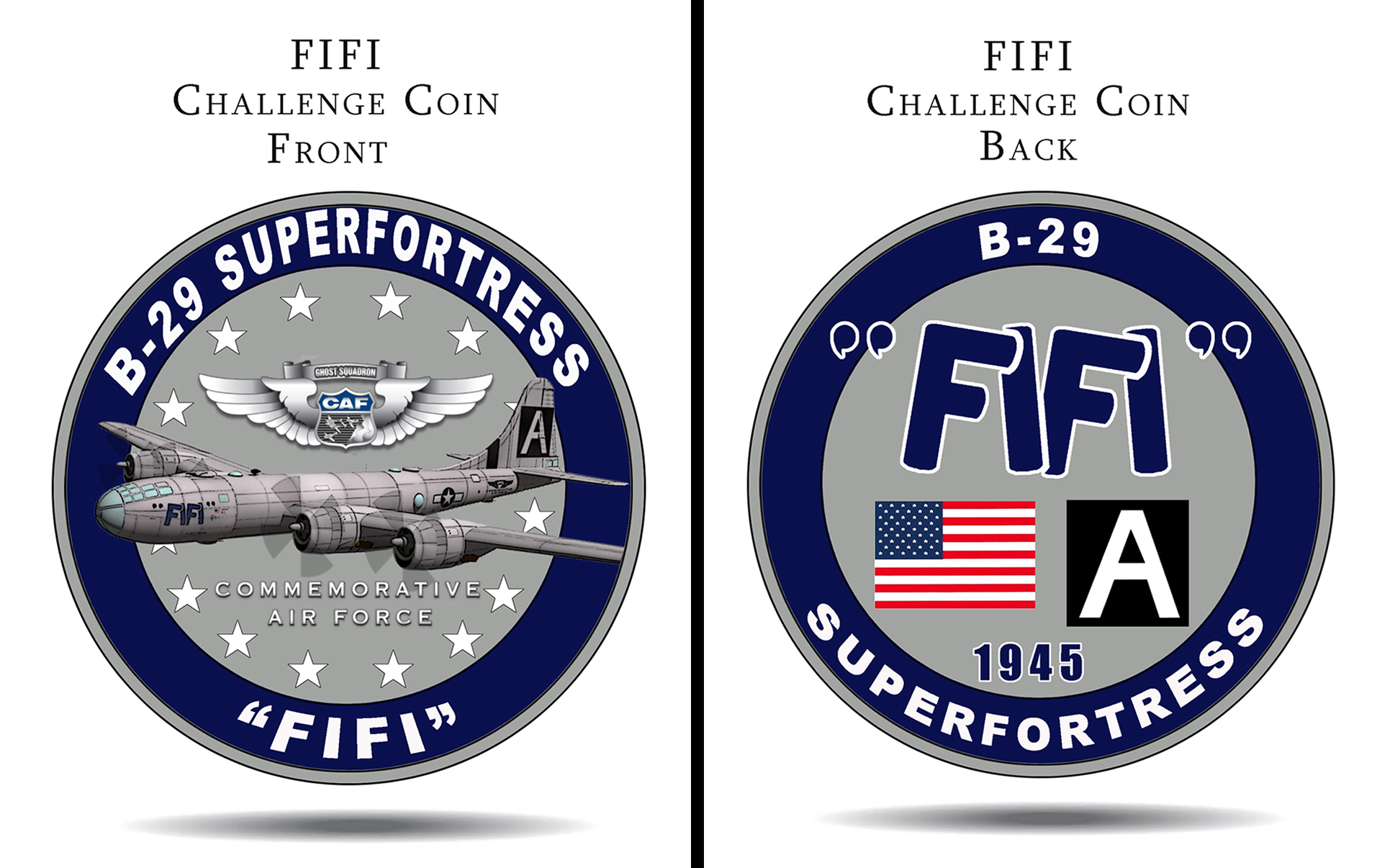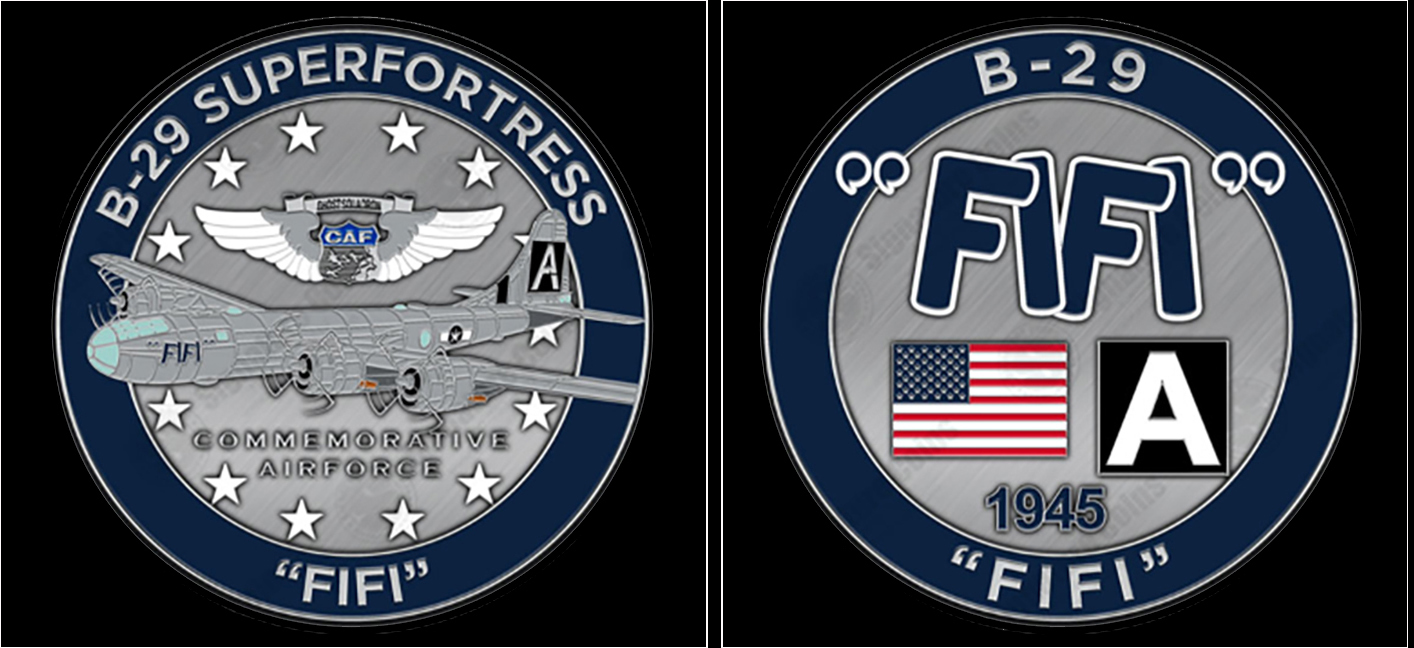 "FIFI" Challenge Coin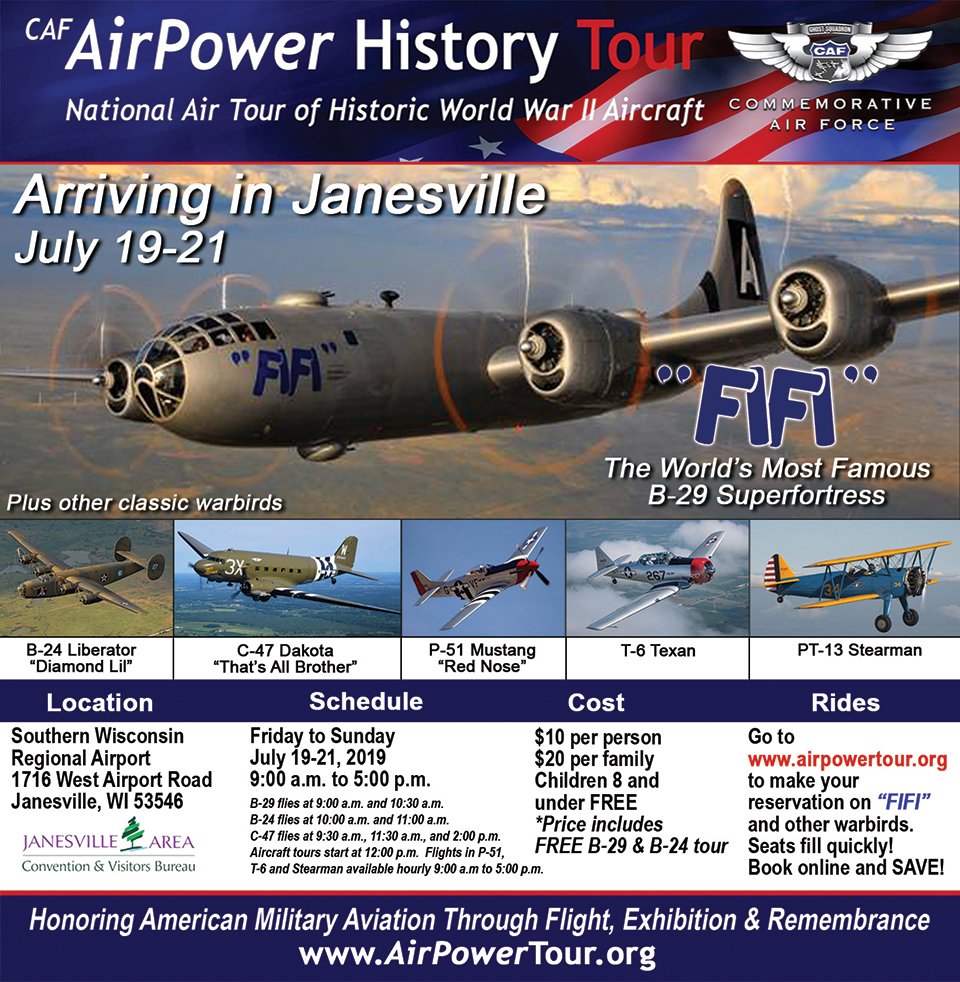 Made a lot of APHT ads and posters over the years!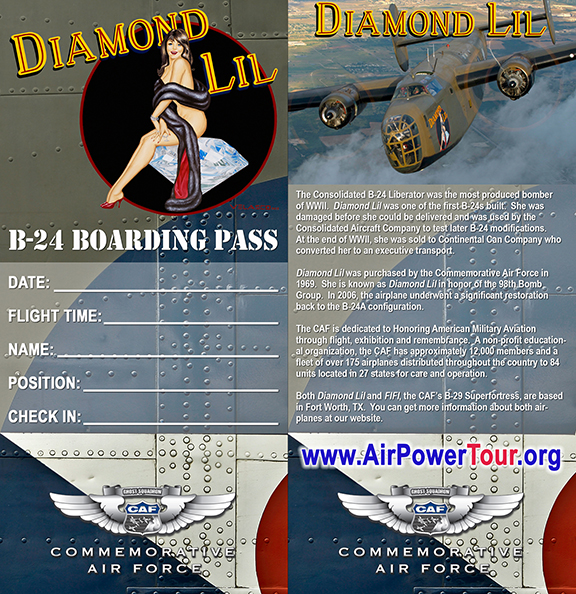 "Diamond Lil" Boarding Pass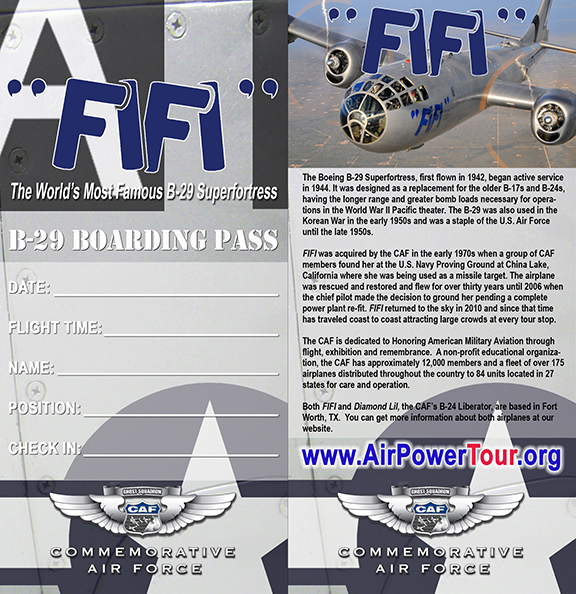 "FIFI" Boarding Pass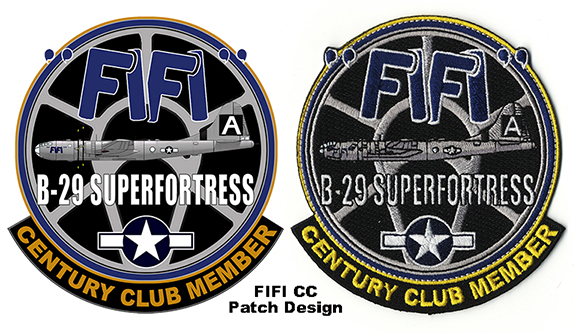 "FIFI" Century Club patch

3D art of "FIFI" reworked as line art for patch.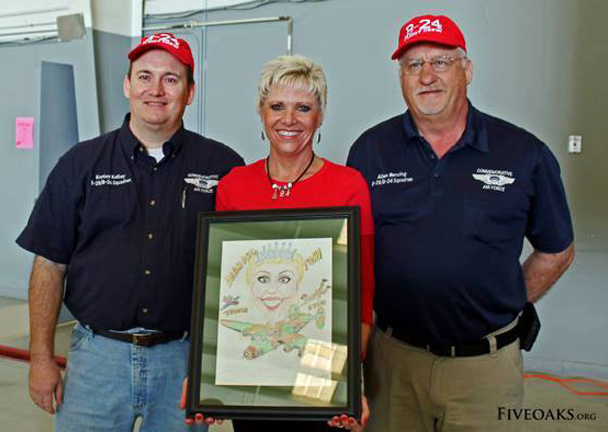 "Diamond Toni"
Original caricature done as a surprise thank you for CAF member, Toni Rabroker.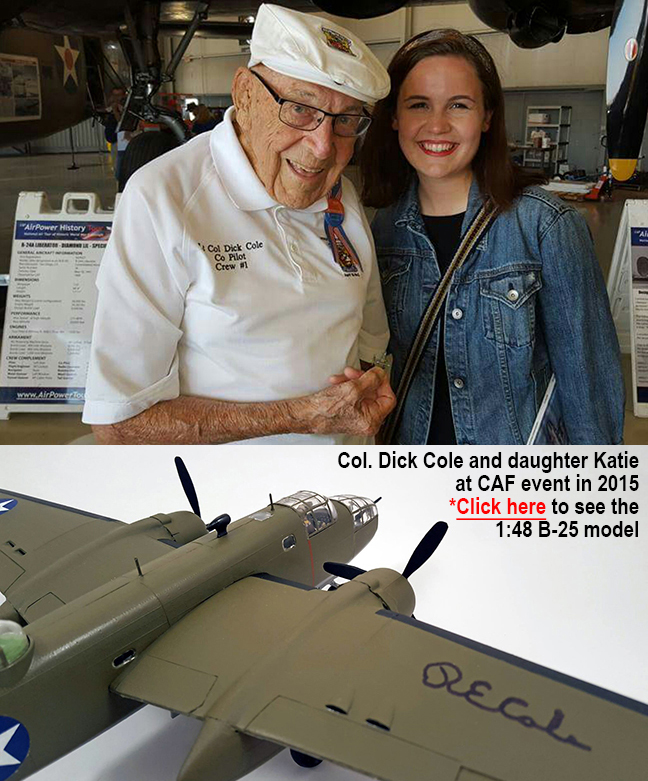 My daughter Katie sang the National Anthem at the Squadron's 75th anniversary celebration of the end of WWII in August 2015.
Col. Cole signed the wing of my Revell 1:48 B-25B Mitchell. See link for more pictures of the completed model.
I gave Col. Cole a mini B-25 Mitchell from my USS Hornet carrier model kit. When I finish the model kit, I will know one of the B-25s missing from the flight deck is forever with Col. Dick Cole, co-pilot of the first B-25 to launch from the USS Hornet with pilot Jimmy Doolittle.
*Below are other WWII veterans I was fortunate to meet and sometimes volunteer alongside.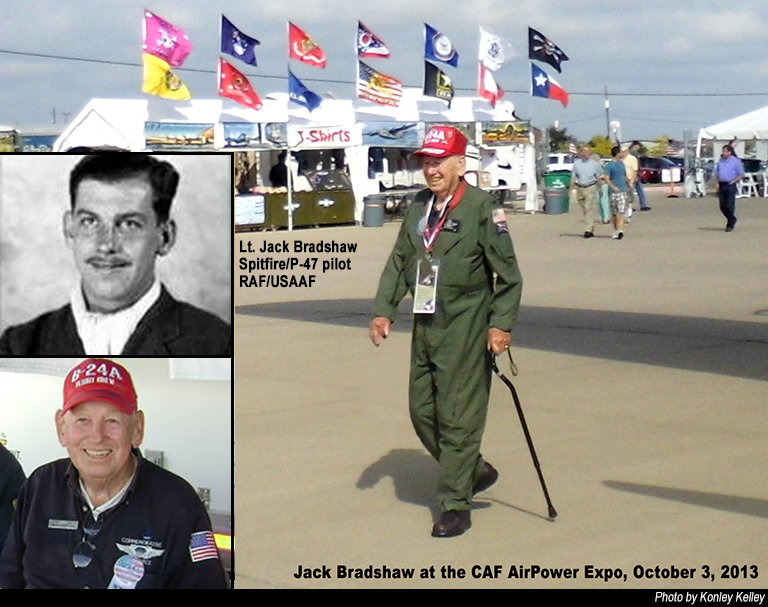 Lt. Jack Bradshaw, Spitfire and Thunderbolt pilot in the RAF and USAAF.
Jack attended many local CAF events in Dallas and was a member of our Squadron.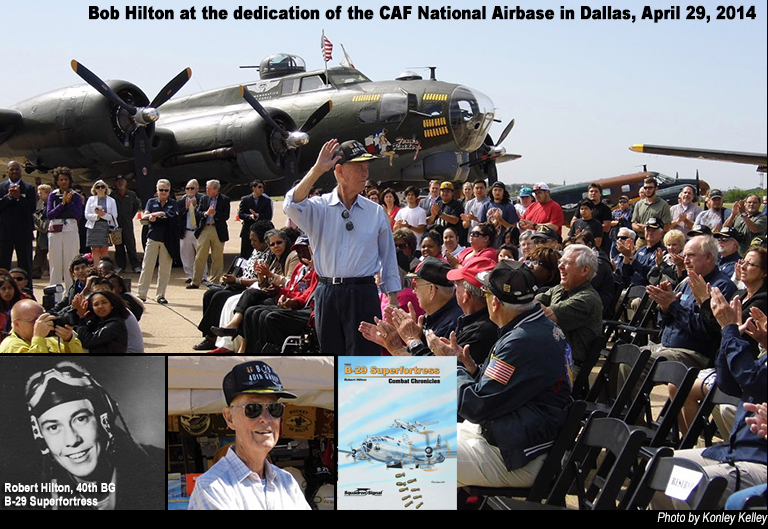 Bob Hilton, 40th BG and aerial photographer. Bob authored B-29 Superfortress Combat Chronicles.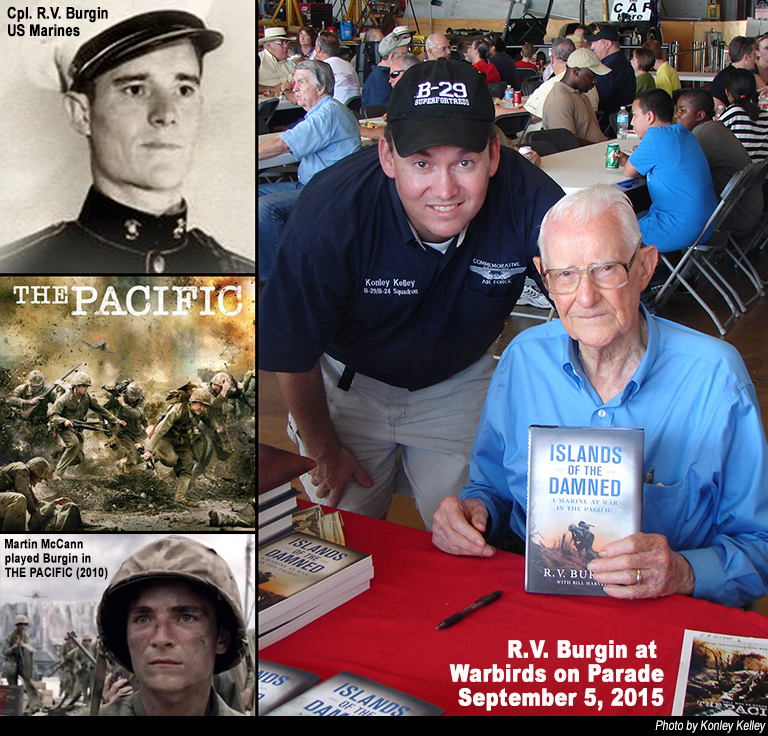 Corporal R. V. Burgin, US Marines. Portrayed by actor Martin McCann in the miniseries THE PACIFIC (2010).
He also authored Islands of the Damned.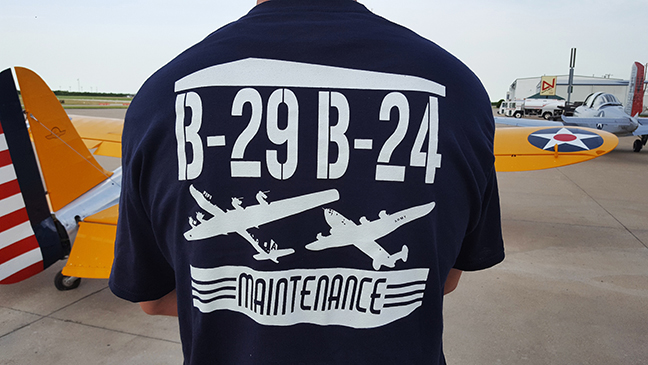 CAF B-29/B-24 Squadron Maintenance Shirt design.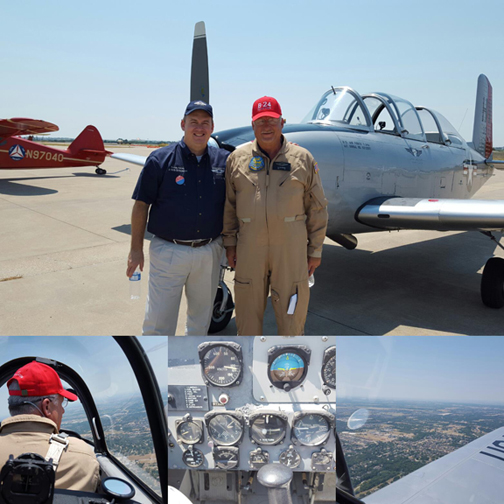 Flying for the first time! In a T-34 Mentor with pilot, Al Benzing, August 2015.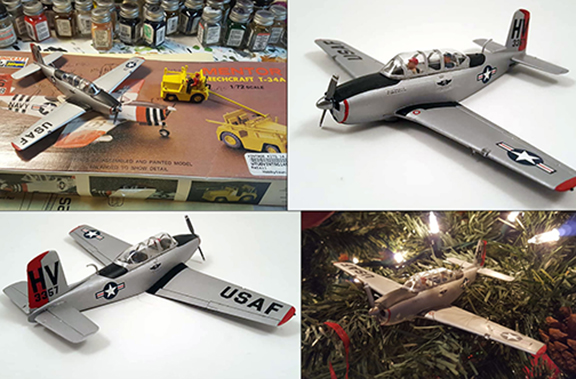 1:72 T-34 Mentor Model with mini Al and Kon. Also on the Christmas Tree!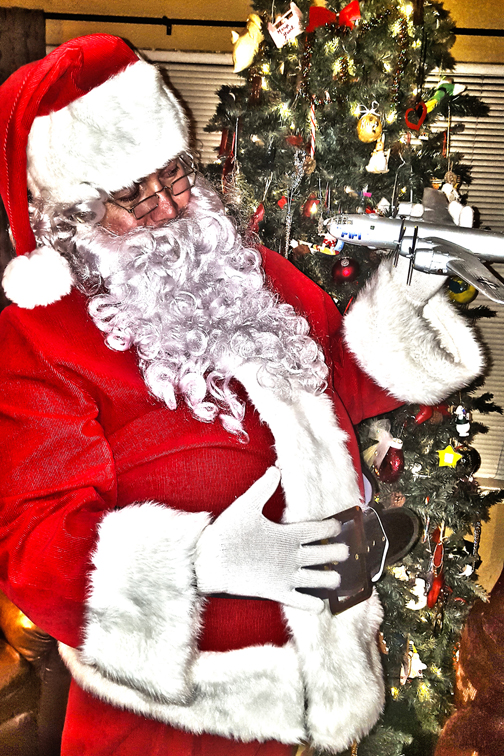 Dressed up as Santa Claus with a "FIFI" scale model.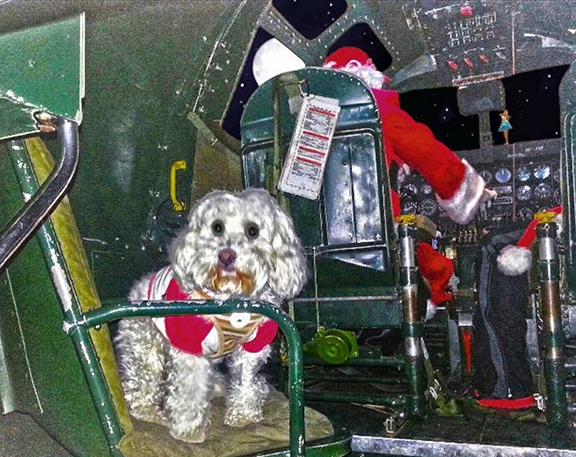 Santa with his Little Helper, George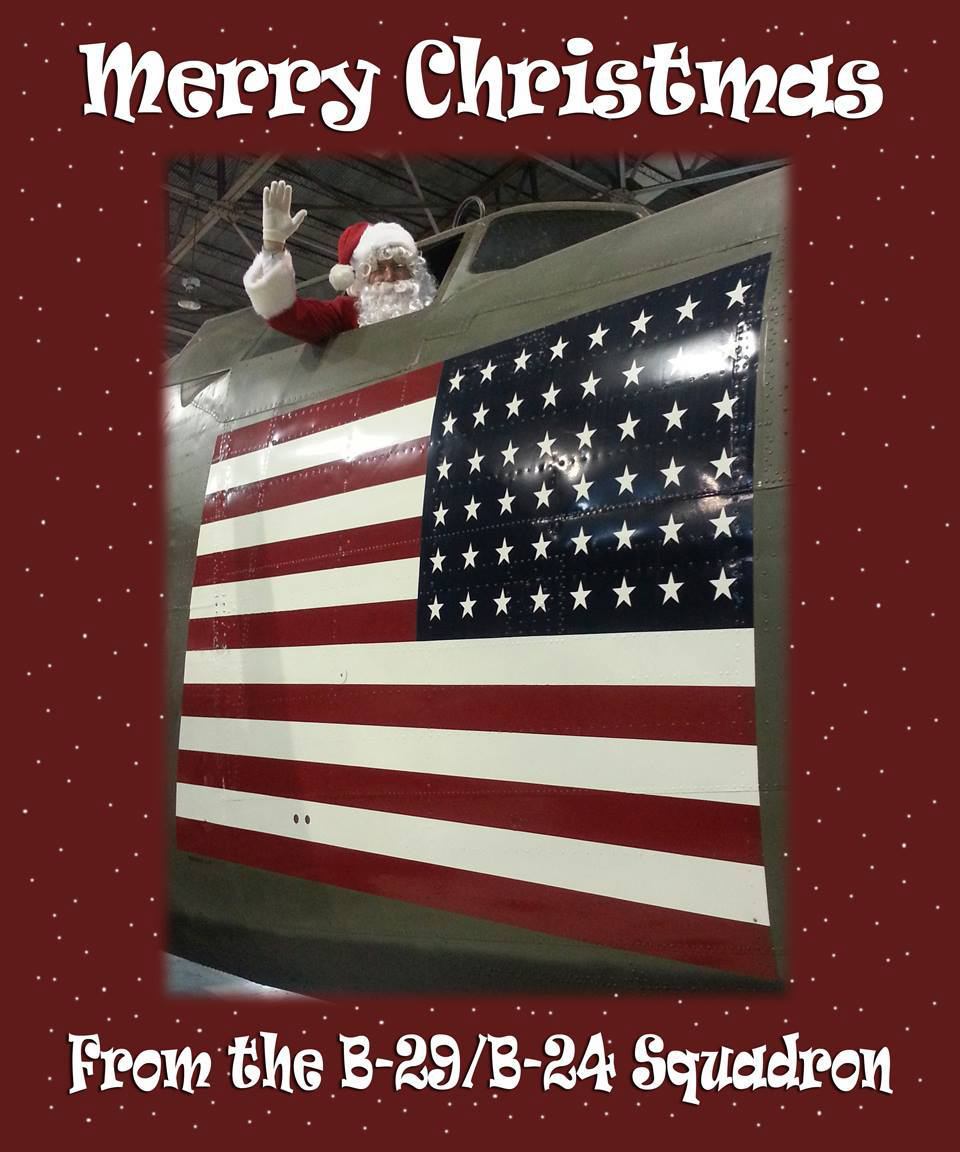 Santa in the co-pilot's seat.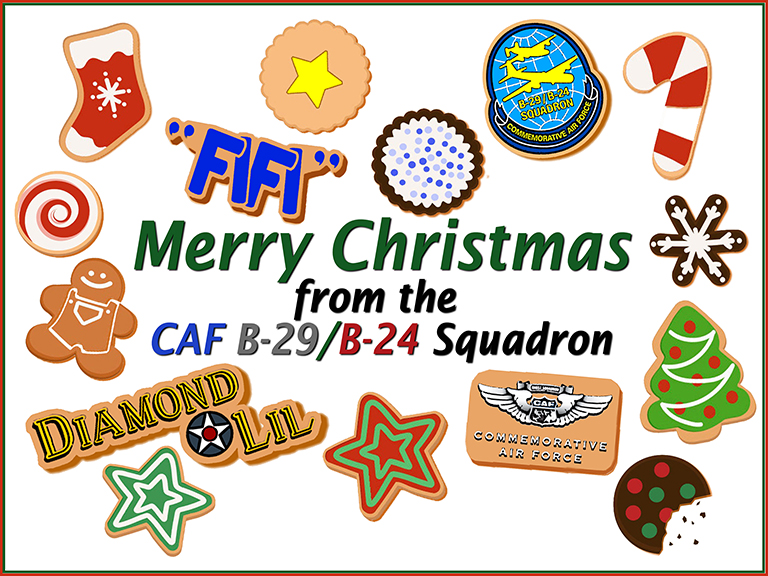 Just add milk.

Halloween, Thanksgiving, Christmas (need a St. Patrick's Day)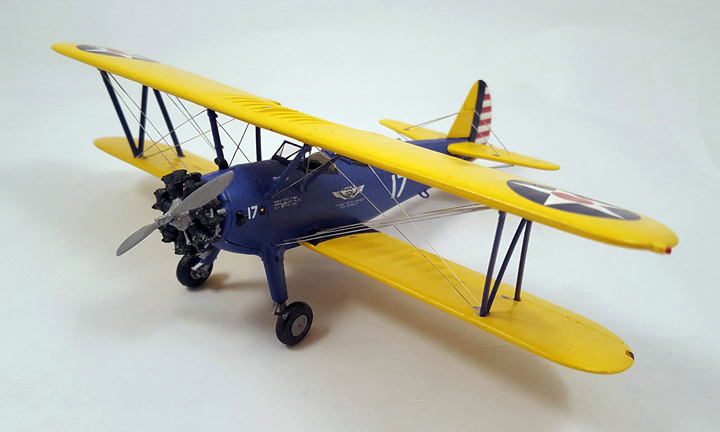 CAF Squadron Stearman in 1:48 scale (Revell). I used paint brush bristles for rigging.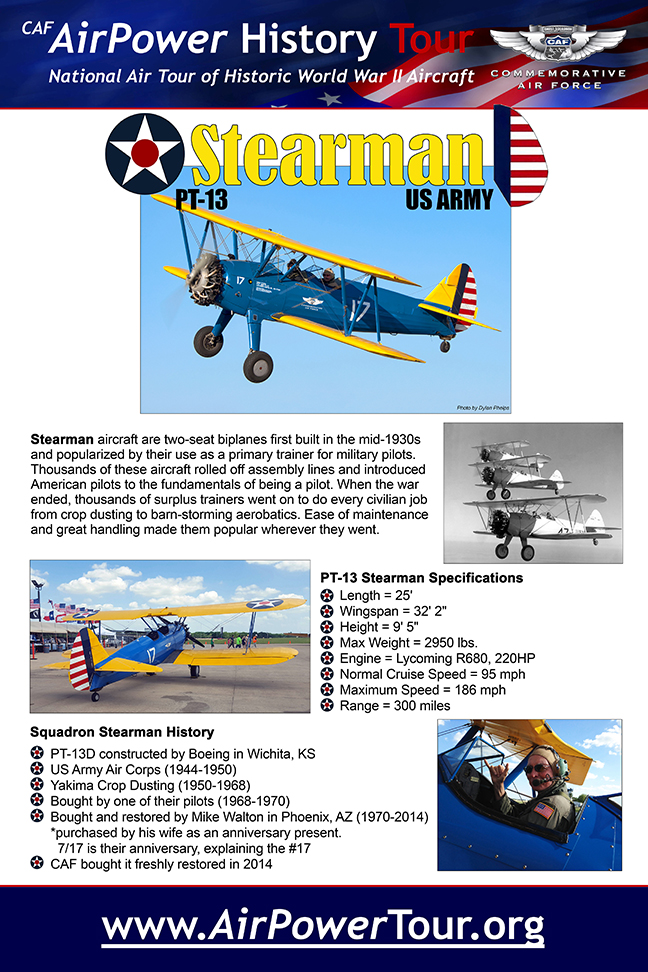 Squadron Stearman A-Frame design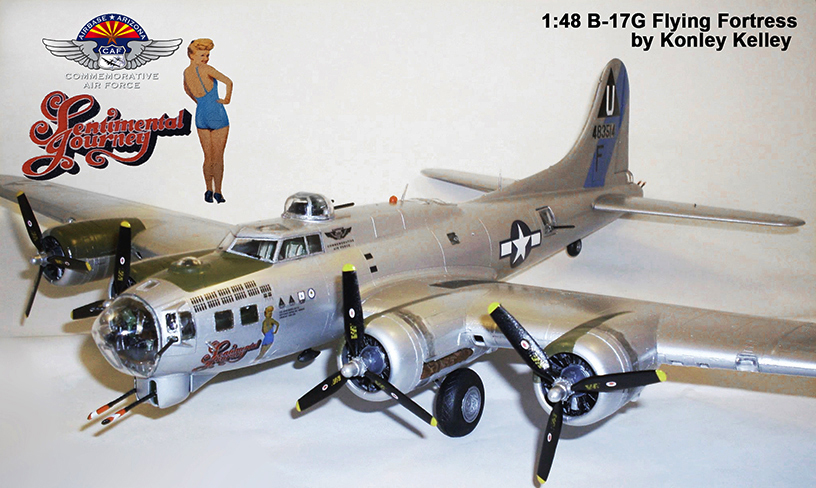 Revell 1:48 B-17G Flying Fortress with homemade decals.
"Sentimental Journey" B-17G Flying Fortress based at CAF Airbase Arizona.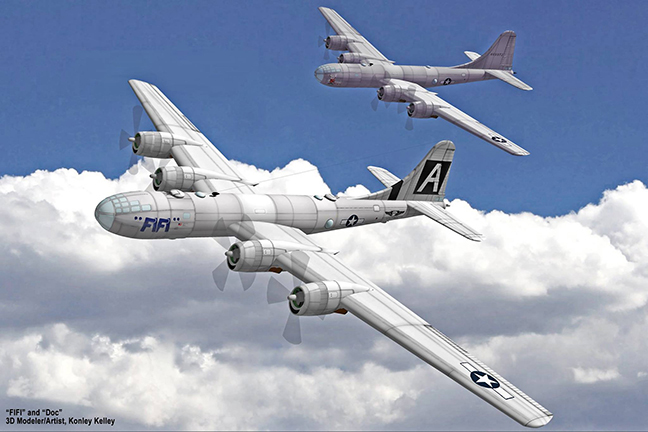 "FIFI" and "Doc" meet in 3D.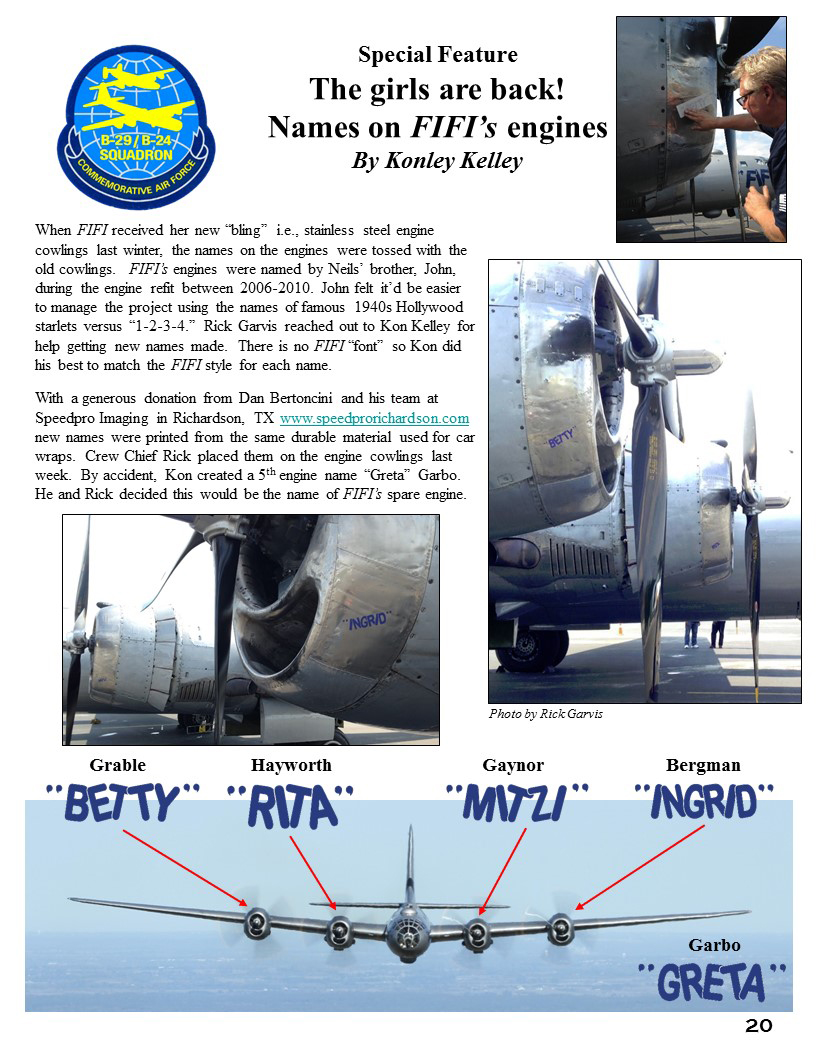 Made "FIFI" engine names vinyl lettering...and an accidental spare!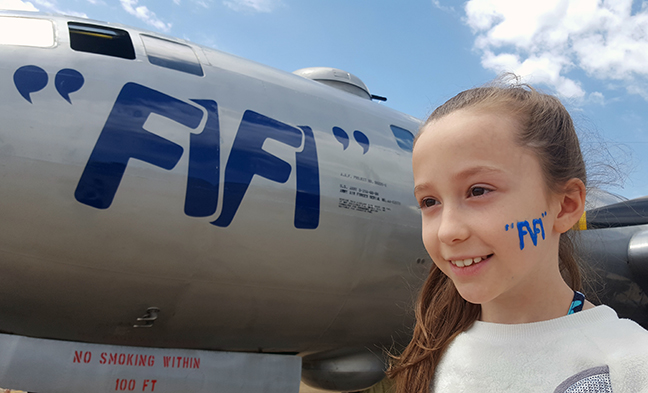 Facepainting "FIFI."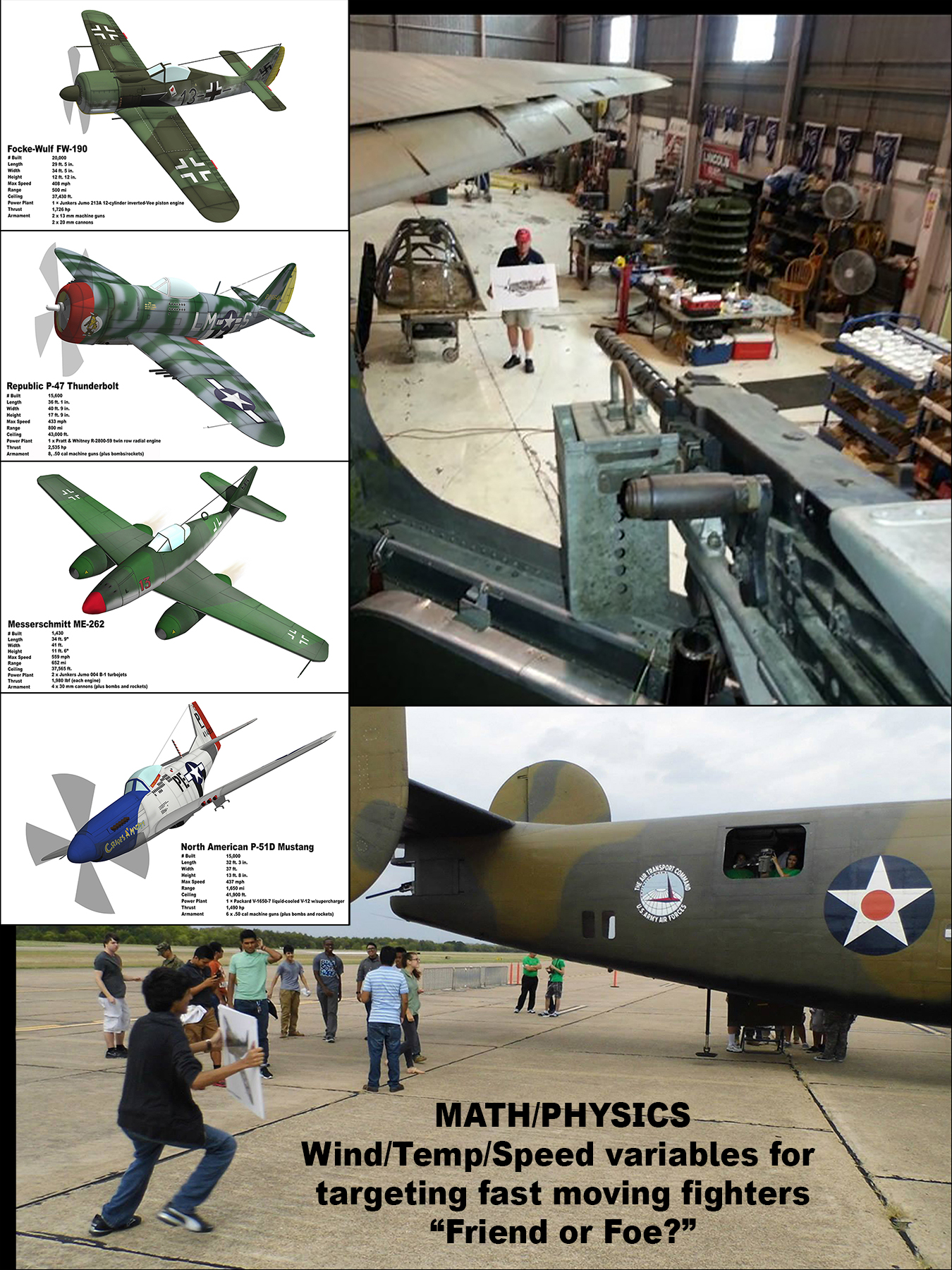 Great activity to engage school groups touring Diamond Lil. The kid holding the ME-262 art better be moving!!!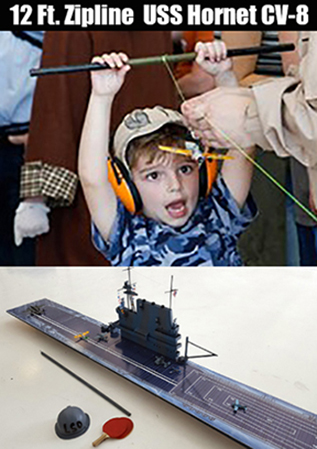 Click on carrier to see 12 ft. Zipline Carrier USS Hornet CV-8 feature.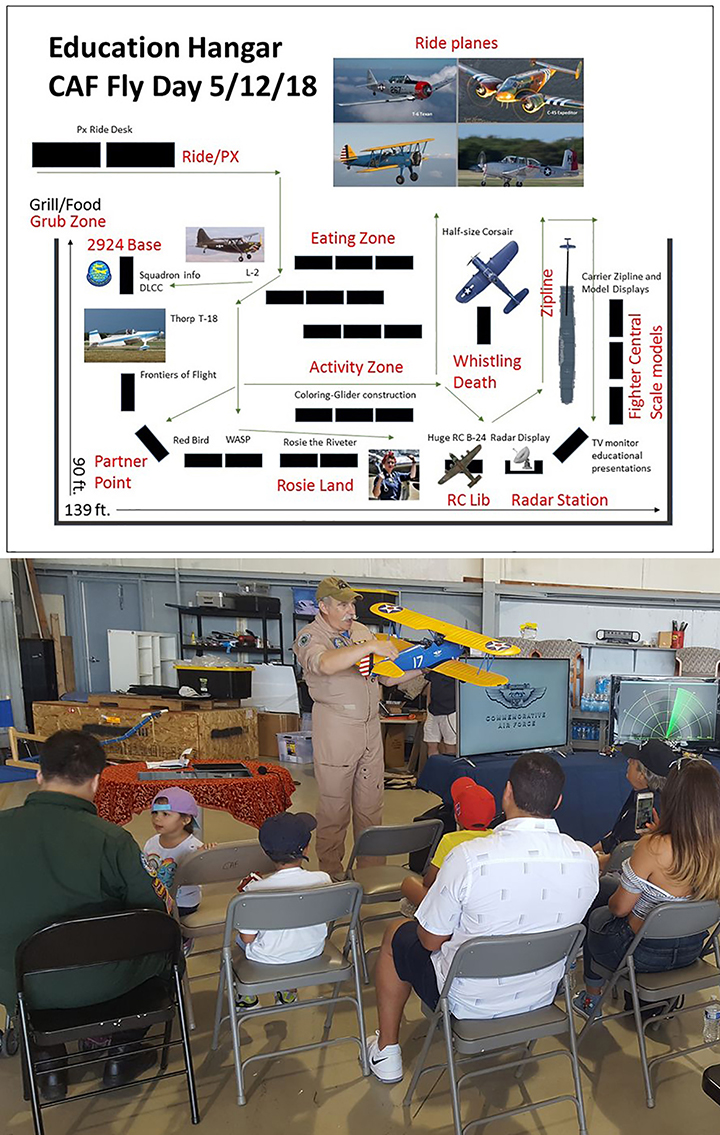 Squadron Fly Day at DEA (2018). Brad Marzari leads a session called "Why airplanes fly."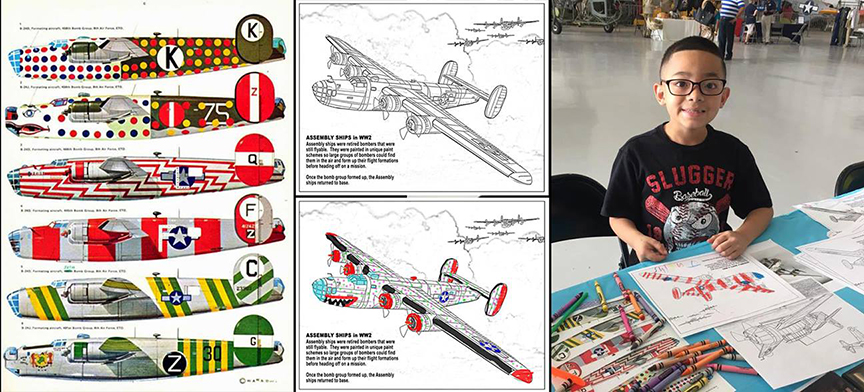 Assembly Ships history and coloring fun.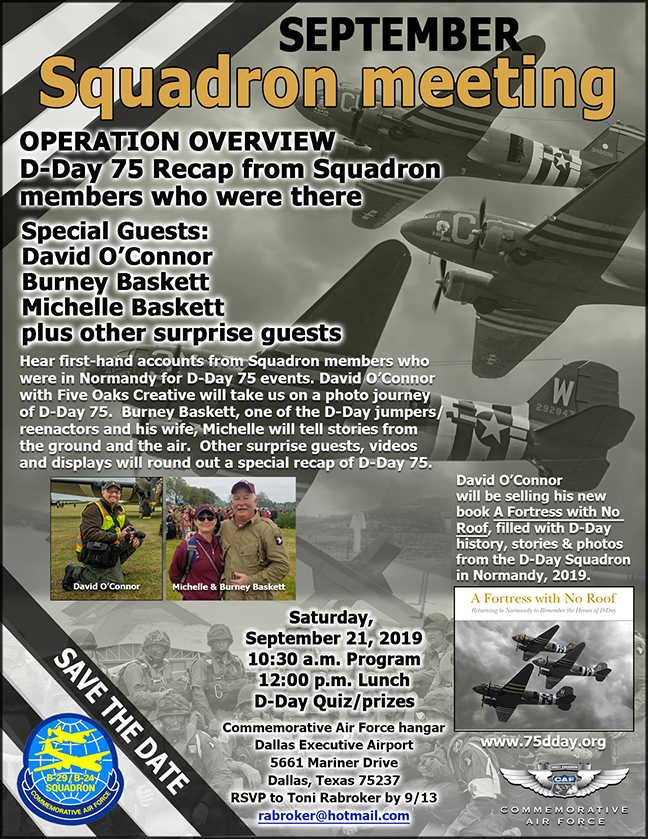 Designed Squadron meeting posters and collaborated with "Diamond Toni" on ideas and event planning.
See more Squadron membership meeting posters CAF Squadron Meeting Posters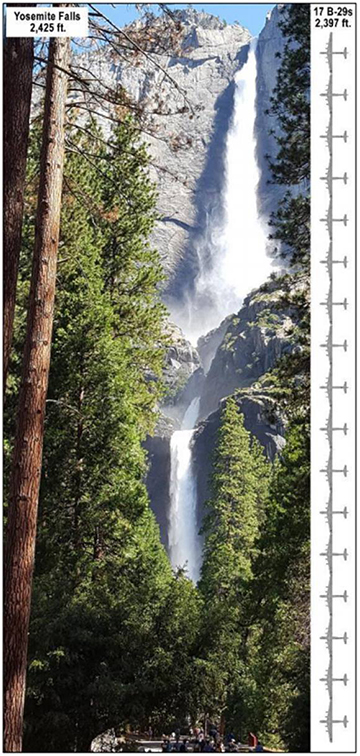 Height comparison. B-29s and Yosemite Falls.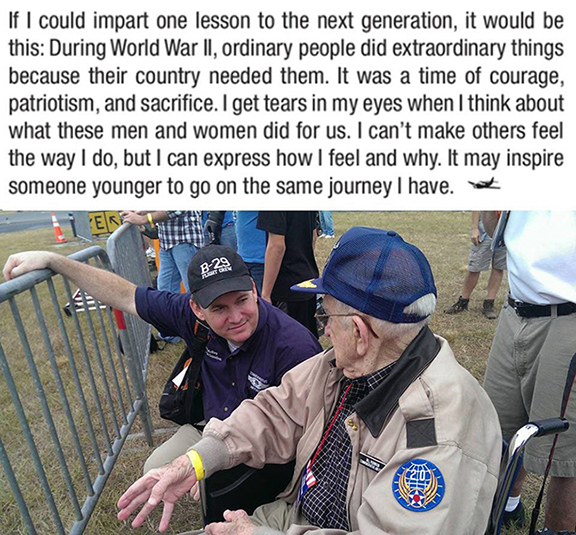 Part of the interview the CAF did with me for The Dispatch.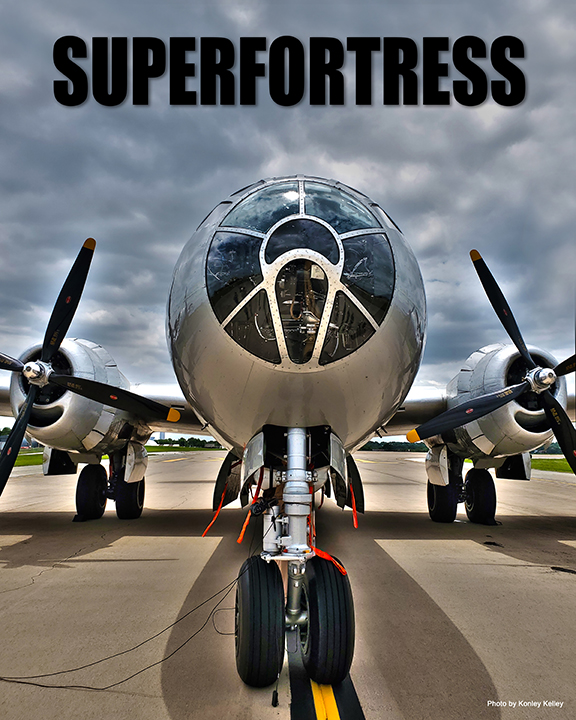 "FIFI" in 2021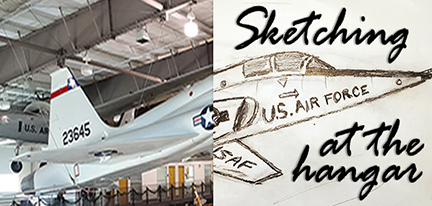 A fun day with family sketching planes at the Frontiers of Flight Museum

Click art above to see proposal.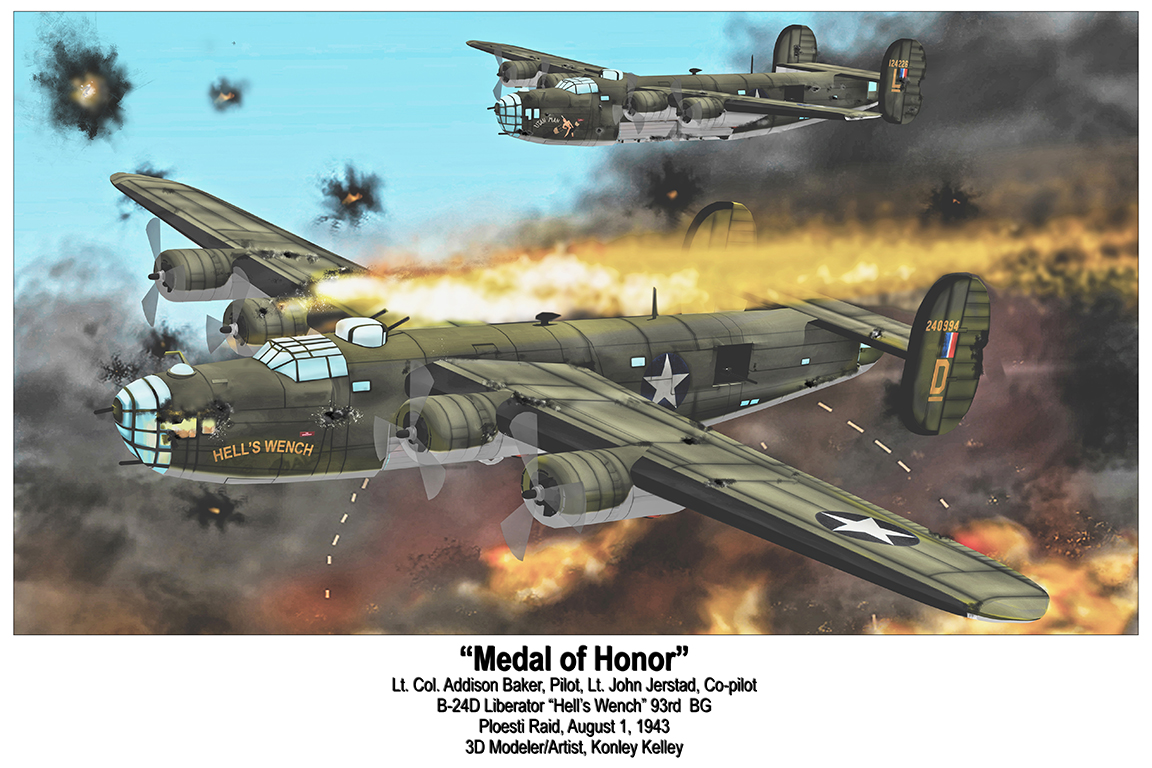 Helped coordinate the 93rd Bomb Group Reunion visit to the CAF. Made custom 3D art of the 93rd "Yellow Tails."